"Oops."  With one word, Texas governor Rick Perry's 2012 presidential dreams quite likely hang in the balance. On Wednesday night, Oakland University in Rochester, Michigan hosted the second of five scheduled November GOP debates. The field included all major candidates: Perry, Michelle Bachman, Herman Cain, Newt Gingrich, Jon Huntsman, Ron Paul, Mitt Romney, and Rick Santorum. Coming into the debate, coverage was very much focused on Mr. Cain following accusations of sexual harassment made by several women. Early questions did indeed address these allegations and the moderators opened the floor to allow all participants to weigh in on Mr. Cain's presidential potential. However, after the opening moments, Mr. Cain performed capably as he answered questions on the European debt crisis, his 9-9-9 plan, health care, and more.
The first hour of the approximately two-hour debate passed with little incident, save for a few prolonged attacks on Mr. Romney's economic strategies and, inevitably, his health care legislation from his time as Massachusetts governor. It is the second half of the debate that has garnered the majority of coverage. In it, Mr. Perry rather emphatically declared that, if president, he planned to entirely eliminate three agencies in Washington. As he began to elaborate, however, he could only think of two of them. "Commerce, Education," said Mr. Perry, before pausing for a moment to think. Realizing his position, the Texas governor began pleadingly looking from side-to-side, flipping through his notes, and even counting on his fingers. Other participants offered their suggestions – Ron Paul chipped in with the EPA – but Mr. Perry was fatally stuck. After nearly a minute had passed since he had begun talking, Mr. Perry resumed – "I can't. The third one, I can't. Sorry. Oops." By this point, the other participants as well as the moderators were stifling laughter.
For the majority of the other candidates, this would have been merely a hiccup. Yet for Mr. Perry, who has struggled in many of the debates of the last couple months, this could spell disaster.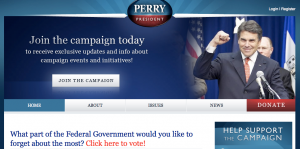 The governor himself seemed to acknowledge just how badly he performed in a press conference after the debate as he said "I'm glad I had my boots on tonight, because I sure stepped in out there." Mr. Perry's supporters are fairly pessimistic now, as one posted to CNBC's live chat coverage "It's over now, isn't it?" Perhaps more worrying for Mr. Perry's camp are the rumors that major sponsors will be dropping out and withdrawing any future funds from the campaign. Political campaign experts are already weighing in following the flub; Mark McKinnon,an aide to former president George W. Bush, described the moment as the "human equivalent of the shuttle Challenger." It remains to be seen whether Mr. Perry can overcome this moment, particularly now given the fact the video is making its rounds on the Internet and was the main talking point for nearly all stories on the debate. Regardless, the Texan's presidential hopes have now suffered a major blow, one which may just prove insurmountable.
Be sure to watch the next GOP debate, scheduled for Nov. 12 at 8pmEST on CBS.