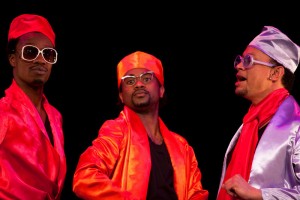 It all started in San Francisco's Castro District when a space opened up at Josie's Cabaret & Juice Joint, a popular comedy club. It was the perfect place for Boston native Brian Freeman to launch what would become his defining contribution to the genre of queer theatre. "It was an incredibly easy place to put on a show," says Mr. Freeman, whom I had the privilege of interviewing on October 29.
"The idea for the show just came out of a conversation with the proprietor. I asked him if it would be okay if someone did a black gay comedy, and he just said, 'Make it funny.'"
Mr. Freeman, along with dancer/choreographer Djola Bernard Branner and actor/singer Eric Gupton, would soon form the black gay theatre troupe Pomo Afro Homos (an abbreviation of Post-modern African-American Homosexuals). In existence from 1991 until 1995, Pomo Afro Homos are best known for Fierce Love: Stories From Black Gay Life, which premiered in San Francisco and toured in five cities, including Boston. "It was the show that put The Theatre Offensive on the map. I don't think they were even a year old at the time," Mr. Freeman recalls.
Fierce Love is a compilation of several vignettes exploring the lives of African American gay men. The title comes from a line in a poem by Essex Hemphill. "The larger poem itself is a poem about trying to find a personal love with the idea of finding community, particularly for black gay men with each other, so the show in a way is a rift on that notion," explains Mr. Freeman. With this play, the troupe wanted to reveal and express the black gay community's existence in the world by creating a comedy with the universal themes of love, loss, fun and rejection. Elements from Mr. Freeman's life show up frequently, including stories of his childhood in Roxbury, MA.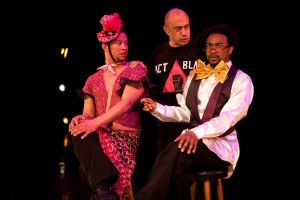 It's not hard to attribute the success of Fierce Love to its humor. "Queers are often very funny," Mr. Freeman says. "It's about finding the funny in the absolutely absurd, but the absurd is often a kind of reality. What's surprising in doing it was how people/audiences responded to that humor."  It's the humor that helps this play connect to audiences outside the LGBT community. "It's not a rally," Mr. Freeman explains, "it's a show. It's a performance. It's very funny and some of the stories are really moving…. Straight audiences have a ball with the show, as well as LGBT audiences."
This November, Mr. Freeman returns to The Theater Offensive to direct and act in a "remixed" version of Fierce Love. "It's re-created with a younger cast, who's sort of the age that we were–late 20s, early 30s–when this was originally put together. And they're great. It's very funny," he says. The piece now includes current pop-culture references and a hip-hop number, inspired by the recently founded genre of homo-hop, a subset of gay-oriented music. The song, a parody of gay rappers, underwent a remix by gay rapper Kevin "Kaoz" Moore to make it more modern. "It's big fun. It's one of my favorite parts of the show," Mr. Freeman adds.
Despite the changes, Fierce Love still resonates with black gay community's 20-year transformation from near invisibility to cultural prominence. In the early 90s, the gay community was generally seen as a white community, so people of color were often viewed as having mixed alliances–that is, some African American gays and lesbians were, according to Mr. Freeman, "supposed to give up their ethnic identity" to avoid suspicion. "The show definitely wrestles with some of that," he adds. In the state of Massachusetts, gay people of color were very involved with the court case to legalize gay marriage. For LGBT communities of other ethnicities, the process to visibility has yet to reach completion. "In some ways there are issues very specific to being gay in a Latin community, African American community, Chinese community–not every community is in the same place politically," Mr. Freeman explains.
Though Mr. Freeman is often called an activist-artist, he doesn't readily accept this label. "I don't know if that is so true…I don't know that I would describe myself that way," he says. "I've been an activist; I've been an artist. And sometimes my art reflects my activism, and sometimes it doesn't." But Fierce Love, he admits, is one of his more politically charged works since the early '90s were a pivotal moment for LGBT activism. In the early '90s, viral medications had yet to make their mark on the AIDS pandemic. The play is "of that moment, and of that very activist moment," Mr. Freeman describes. "And the piece now, 20 years later, is in part a history of that moment, of the spirit of it, the pain of it, the joy of that moment."
Fierce Love performs November 17-19 at Hibernian Hall in Roxbury at 8pm Thursday and Friday, with a 2pm matinee and a 7pm evening performance on Saturday.