It is a sad day indeed when your favorite chick-rocker leaves your favorite band, but Amy Klein, formerly of New Jersey rockers Titus Andronicus, has decided to call it quits.
According to her tumblr, "there was no big fight or anything—no wild partying, drug, or alcohol addiction leading to me getting fired—no dramatic story—nothing like that. It is just time for me to move on."
Amy is already part of two other projects. Hilly Eye is a post-punk girl-duo that recently played a Pellytwins show at the Great Scott. Her other project is Amy Klein and the Blue Star Band. From the sweet sadness of I Know What You Want to the psychedelic noise-rock of Fireworks, anyone can see Klein's incredible range will ensure her a bright future, whatever she chooses to do.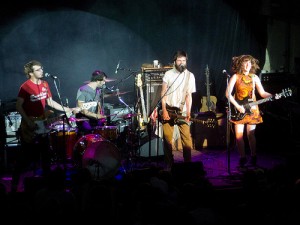 This is not to say she isn't sorely missed. Patrick Stickles wrote a beautiful retrospective on the Titus Andronicus website:
"Having her in the band has been an enormous blessing, as she is a rare and visceral talent. Onstage, she can rock more thoroughly and with less fear than most anyone I can name, and to stand next to her night after night and try to not be totally swallowed up by her light has been one of the greatest challenges, and privileges, of my career."
In the wake of her announcement, Stickles has already posted the official video for Titus's cover of Nirvana's "Breed." The song was originally recorded for Spin Magazine's Newermind, a Nirvana tribute album, and features Amy Klein as a tiny, fear-inducing, skeleton ghost thing. The video was part of a long list of, according to Stickles, "some of her most sterling contributions to the life of Titus Andronicus."
On that list, Stickles mentions a recording done in Chicago the summer of 2010. I saw Titus preform twice that summer, and their Pitchfork aftershow at Subterranean was one of the best shows I went to all year. The other was Titus Andronicus at Boston's very own Great Scott.
As Amy moves on from the band in the wake of bassist Ian Graetzer, who amicably split from Titus about a year ago according to The Village Voice, Titus does as well. This past summer, the band covered They Might Be Giants' "Birdhouse In Your Soul" for The A.V. Club's Undercover 2011 series sans Klein and Graetzer, and they sounded terrific.
At the end of his farewell to Amy, Stickles said it best. "For punks, the past is prologue, and I am already late for the first practice of Titus Andronicus 6.0. Let's get it!"