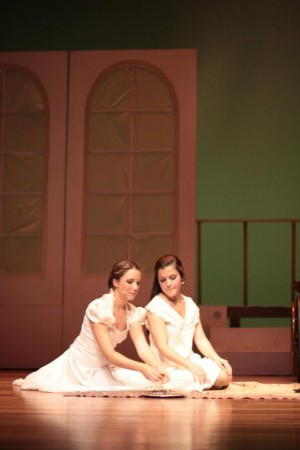 From my own theatre experiences, I know how difficult it is to compile a show in a limited amount of time. With this in mind, BU Stage Troupe's Parents' Weekend production of A Little Night Music, directed by Ryan McPhee (COM '12) and Abigail Smith (CFA '13), definitely has the potential for success.
A Little Night Music is a stage musical with a book by Hugh Wheeler and music and lyrics by Stephen Sondheim.  The story takes place in early 20th-century Sweden and centers on an actress, Desiree Armfeldt (Alia Gilbert, COM '12), and a lawyer, Fredrik Egerman (Zak Eisenberg, CAS '14), former lovers who have gone their separate ways. When they meet again many years later, Desiree has a new lover (Jon Mayer, COM '15) and Fredrik has a new wife (Leah Edwards, CAS '15). Things begin to get complicated when Fredrik takes his 18-year-old wife to one of Desiree's plays.
This production's real strength lies in the cast's vocal talent. Sondheim's music is known for its difficulty, and this cast performs most of the numbers with technical success. Eisenberg has an issue with diction in the number "Now," but his superb intonation and tone make the small flaw almost irrelevant. The all-cast number "A Weekend in the Country" is technically phenomenal, even with its difficultly layered melodies. Especially enthralling are the Liebeslieders Singers, a group of five (Danny Ferro, SED/CAS '13; Lauren Wittel, CAS '14; Tavia Merchant, CFA '12; Anthony Rinaldi, ENG '12; and Jessica Schaffel, SED '13) who weave in and out of scenes while singing in perfect harmony. Merchant in particular has a beautifully powerful voice – she almost doesn't need a microphone. The cast's delivery of Sondheim's music was so gorgeous, it inspired me to buy the soundtrack.
While the vocals were fantastic, I had a few issues with the more dramatic aspects of the show. Many of the actors have difficulty playing older characters. Throughout most of the first act, Gilbert struggles to be convincing in her role as a woman in her late forties who craves to reclaim the glamour and passion she once had in her life. Part of this isn't Gilbert's fault: though Desiree describes her small-town acting tours as "shoddy," the scenes and numbers depicting her career (particularly "Living the Glamorous Life") suggest the opposite. Georgia Ladd (SHA '14) as Desiree's mother, though generally hilarious, has a few moments in which she forgets to move like an elderly woman.
Considering the limited budget of a college theatre club, I was okay with the costumes not being true to the period – but that shouldn't mean that every other characteristic of the period can also be abandoned. Many times I noticed girls crossing their legs or taking long strides in ankle-length skirts. Some girls also wear their hair down and flat-ironed, not a style of the early 1900s.
Acting-wise, however, there are some spectacular moments. Fiona Bryson (CAS '13) does a splendid job as a maid enjoying sexual freedom. Edwards's duet with Molly Bourque (CAS '13, who portrays Desiree's lover's wife), "Every Day a Little Death," both despairingly and amusingly shows how two very different women can connect over the one thing they have in common: their husbands' infidelity. Gilbert and Eisenberg have breathtaking chemistry as they sing "Send in the Clowns" towards the end of the second act.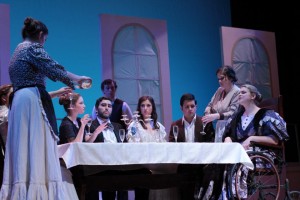 It will be interesting to see how A Little Night Music fares upon its opening night this Friday. In less than two months of rehearsal, these actors have already proven their unwavering commitment, so it should be no surprise if they pull off a spectacular show.
A Little Night Music opens on Friday, October 21 in the Tsai Performing Arts Center at 7:30pm. Tickets for Friday are $8 and can be purchased at the Student Activities Desk on the 2nd floor of the GSU or at the door. There are two additional performances on the following Saturday at 7:30pm and Sunday at 2pm. Tickets for Saturday and Sunday are $17 for students and $25 for adults.