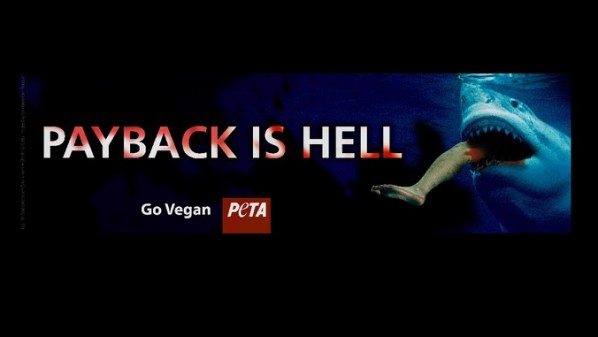 PETA has a long history of controversial advertisements.  According to PETA.org, two of the organization's most prominent strategies of getting its message across are public education and protest campaigns.  These two methods, however, are causing most of PETA's problems with the general public.
In 2006, PETA released a video advertisement (NSFW) speaking out against killing animals for their fur.  The ad displays a woman in a fur coat getting brutally beaten and killed by a man who proceeds to rip off her fur coat and run away with it.  Another is a billboard ad showing an overweight child eating a hamburger with the tagline, "Feeding kids meat is child abuse."  Both are powerful images, but, as PETA member Rachel Pearson (COM '15) pointed out, "It's not a logical argument."  Pearson goes on to say the ad gives viewers "no argument not to wear [fur] coats or eat meat." While the advertisements offer questions that require serious thought, they are completely void of any logical connection.
The most recent advertisement that has stirred up controversy for PETA was created in response to a spear fisherman who was attacked by a shark in late September.  21 year-old Charles Wickersham's leg was bit by a bull shark while fishing off the coast of Anna Maria Island in the Gulf of Mexico.  He had surgery two days later and is expected to make a full recovery.  The ad in question shows a shark with a human leg its mouth, displaying the slogan "Payback is hell.  Go vegan."
Halle Stockton of the Herald-Tribune points out the apathetic nature of the advertisement.  "PETA," she said in an article published September 27, "doesn't have much sympathy for the fisherman." The ad came out only a few days after the attack, and PETA plans to put it up on benches and billboards on and near Anna Maria Island.  The organization did send their regards to Wickersham.  "We're glad that Mr. Wickersham is going to be OK," said spokeswoman Ashley Byrne.  She went on to ad that she hopes the "painful and frightening experience" was a learning experience for him and that maybe now he will take up "a new pastime."
PETA's advertisements may not make the most logical points, as Pearson pointed out.  The shark attack on Wickersham was clearly an accident and not a source of "payback", a parent who feeds his or her child meat can not get arrested for "child abuse", and beating a human to death on the streets is not the equivalent of using an animal's fur for a jacket.  However, Andrew Caplan (COM '15), a member of Boston University's Ad Club, says that, while the advertisements are horrifying, "they do their job. Period."
Ryan Huling, PETA Manager of College Campaigns and outreach explained in an interview, "We find these advertisements incredibly effective.  Especially when they get picked up [by the media]."  While many people come in over the controversy surrounding these shocking, sometimes gruesome ads, they stay for the beliefs.  Viewers do not get sold on the logical argument of the ads; they get sold on PETA because these advertisements generate interest.
Pearson described this over-dramatized advertising campaign as "the shock and awe method."  The ads are created to make viewers uncomfortable.  PETA wants people to rethink their own beliefs.  Portraying something as simple as feeding a kid as child abuse is bound to get a lot of attention because it applies to so many parents.  Maybe not all of these viewers will have the response PETA wants, but it causes a rethinking of actions.
From a purely advertising standpoint, PETA's ads are, as Huling said, "incredibly effective."  They may not provide the logical arguments that many are looking for in such advertisements, but they get attention of the public. Which is what advertising is all about.
For more information on PETA click here.   
For more information on Charles Wickersham click here.