I am no stranger to the sound of squeaky instruments. Not too long ago I was playing in my high school orchestra, pretending to sound like a virtuoso. However, the BU Chamber Orchestra is definitely not pretending. They're performing. On Tuesday night in the CFA Concert Hall, the BU Chamber Orchestra put on their first show of the semester with three pieces, all unique and entrancing. If you've never been to an orchestra concert, put it on your BU bucket list. It is a great experience for any music lover.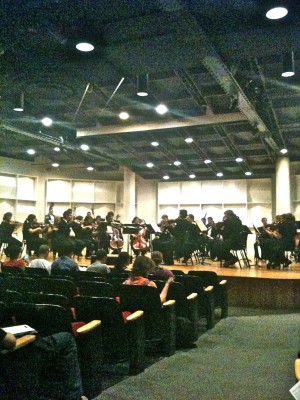 Classical music sort of has the same connotation as prune juice–it's for old people. Think again. Classical music in general has an incredible, if almost magical capacity to transport you somewhere else. The first note is a revelation. You do not need to know about composers and note configurations to enjoy the beauty of classical music. Think of classical music as a play or movie, but with just sound. It always has a story to tell the audience.
The first piece of the night was Mozart's overture, or introduction, to Don Giovanni. In true Mozart fashion, the overture was both graceful and menacing. Upon hearing the first note I got chills. This piece in particular is actually an opera, both a comedy and drama about the adulterous Don Giovanni aka Don Juan who was a staple character in many early literary works. After the short and sweet overture came a surprising song, The Wound-Dresser. Sound familiar? Excerpts from Walt Whitman's poem of the same name are the basis for composer John Adams' orchestral piece. In addition to the strings, the song featured a baritone singer, so it was basically like watching a mini opera minus the set and costumes. Close your eyes, and you could visualize the show being performed.
Lastly, the chamber orchestra performed Franz Schubert's Symphony No. 4 in C minor, "Tragic." Each of the four distinct sections of the symphony told its own story, and the orchestra showed tremendous talent and agility.  The nimbleness with which they play is akin to the game Operation—every little movement counts.
This group of talented musicians shows that music is so much more than plugging in a pair of earphones and getting on with the day. Clearly they all have a passion for music and performance or else they would not be majoring in it. We support our sports teams and attend school-spirited events, but we should not forget about the wonderful music our fellow BU students provide. Music, classical in particular, is not usually a showy affair, but it will leave you with a good feeling one rarely feels day to day.