Most nights, I walk just below a flat-out run towards my building because I don't feel safe in this city, on this campus. Just because I'm a woman. Just because it's late. Pardon my French, but that's fucked up.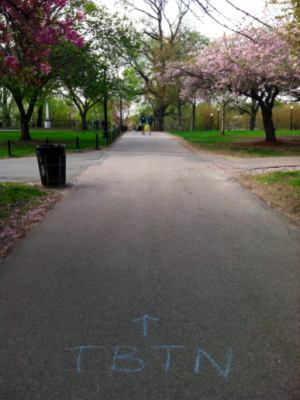 Boston's Take Back The Night Collective hosted its first city-wide March on Saturday to address just that problem. Schools and organisations all over Boston came together to say that nobody deserves to feel unsafe at night.
Facilitators clad in purple armbands ranged from BU Juniors Sarah Merriman (CAS '12) and Arianna Katz (CAS '12) to Emerson Feminists Helen Seachrist and Rose Parry. Food Not Bombs catered the cool down, the Bread and Puppet band lead the march, and Bobby Uttero from the Boston Area Rape Crisis Center (BARCC) spoke at the opening remarks.
"BARCC is always a fantastic resource to have," said BU senior Holly Nicely (CAS '11). Uttero stressed in his speech that BARCC services, which include financial support and counseling, are free and confidential.
Parry started the opening remarks with some statistics, saying that 80 percent of sexual crimes happen to women between the ages of 19 and thirty. Looking out at the crowd, Parry said "That means that 80% of victims are us."
During her opening remarks, Merriman shared her story. "We don't deserve to be afraid anymore. That's why you're all here, because you're tired of feeling unsafe," she said.
Both Parry and Uttero stressed in their opening remarks that sexual violence is the least reported crime.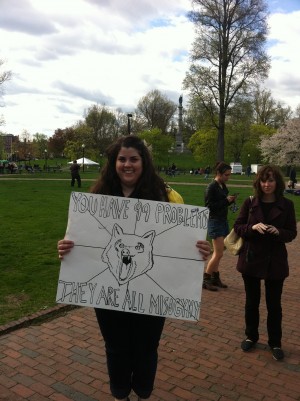 Uttero went on to explain that, "in many ways our society blames the survivor." He stressed that everyone has the ability to change a person's life by believing them, by listening to them, and by being supportive and compassionate.
After the speakers finished, the group broke into two circles for Speak-Outs. According to Seachrist, the purpose of the speak-out is to "discuss feelings, share stories, and create a supportive environment for fellow marchers."
I sat in on one Speak-Out. It covered everything from sexual assault to feeling unsafe at night to methods of preventing rape and sexual assault. Both male and female participants talked about living in a society that promotes a double standard, a society that encourages "sexy" clothing, drugs, and alcohol, and yet vilifies rape victims that partake in that culture.
Many victims shared stories tinted with guilt. Most victims had to come to terms not only with the fact that they've been attacked, but also that they were not to blame. That it wasn't their fault.
"Healing is possible. Healing does exist," said Uttero.
Said Seachrist, "We're hoping to create an event that could have a lasting impact on this community. A Boston-wide march each year would remind citizens that even though sexual assault is a very real problem, its victims are not alone. Our goal is to literally take back the night for everyone who fears going out after hours."
Most importantly, Take Back the Night is about educating people not only how to recognize what sexual assault is and how to defend against it, but also that it's wrong. Take Back The Night promotes the message that not respecting someone's choice is unacceptable.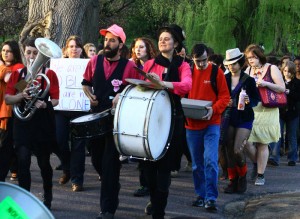 This is made difficult in a culture where rape is being swept under the rug. Boston as a city, however, is taking some remarkable steps to change that, which Merriman expressed with a sense of deep pride.
Said Merriman, "This event to me is full of hope instead of the doom and gloom stuff. Take Back the Night gives people hope to fight back. It's a loud and beautiful way to show support."
The beauty of it all showed in full force as the marchers set out at sunset to the toe-tappin' soundsof the Bread and Puppet band, brandishing signs and chanting lines of support and love and healing, surviving in the sunlight, and fighting for the night.