Sustainability at BU held their annual Earth Day celebration Thursday afternoon, bringing together local vendors, student groups, and non-profits in the name of environmental preservation.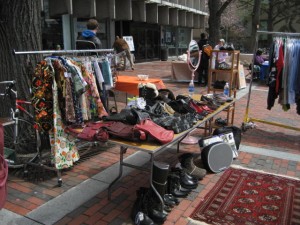 The event took over the GSU Plaza, splashing Commonwealth Avenue with green banners, fresh fruit, and, of course, the 2nd annual Chowdah Festival. Each dining area on campus (Shelton, Warren, GSU, etc.) was represented, with their respective chefs calling out "Free Chowdah!" to the sizable crowd on the sidewalk. My personal favorite was the Towers Cheesy Seafood Chowder, but Carlos' Famous Chowda from Shelton reigned supreme according to BU Dining Service's twitter account.
"It's a good opportunity for student groups to kind of showcase what they've been working on all year, and also to attract potential members" said Sustainability intern Becky Morgan (CAS '12) who was in charge of the event. "I think it's really good to just get everyone a little more engaged even though the semester's almost over. And free coffee! With a reusable mug. We kill a lot of dreams when we use that sign."
The Environmental Student Organization (ESO) was one of the upwards of 20 groups present at Earth day, which included the Organic Gardening Collective, BU Bikes, Bountiful Brookline, home energy auditing, Cabot Cheese, Zipcar and Goodwill. BU's student-run radio station WTBU provided music for the event, and there was even a performance by Liquid Fun.
"We try to cover a lot of bases – local foods, gardening, clean energy, green buildings," said Morgan, "anything an environmentalist might be interested in."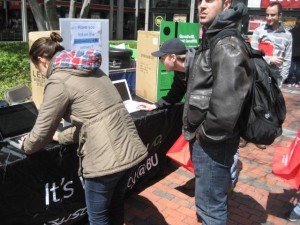 ESO set up a table and did taste tests with the goal of educating people that tap water is clean, and also set up laptops so students could sign up for The Carbon Challenge. Morgan explained  that The Challenge was a monthly competition across BU's colleges to see who could reduce their carbon footprint the most.
"Everyone tries to either turn their lights off more, or take the stairs. Some way to lessen their impact on the earth," said ESO President Meredith Withelder (CAS '12).
In honor of Earth Day, Sustainability at BU urged students to join the Carbon Challenge, take the Sustainability Survey, or help make for a greener BU.