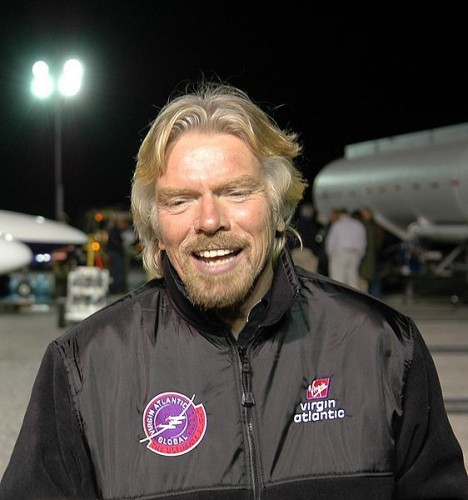 Virgin's Sir Richard Branson has conceivably out-done himself again: through with the shiny appeal of deep space, the multi-billionaire has set his sights on the ocean floor. Over the course of the next year, Virgin Oceanic and its one-person deep-sea submarine will attempt to reach the lowest points of the world's five oceans. The specially built submarine, emblazoned with the Virgin logo, is naturally up Branson's alley: futuristic, shiny, and monumentally expensive. But from space orbit to the ocean floor, what's the next big interesting bag of crazy that Branson would have the money to back? I've got five ideas that I hope are already in Branson's file of Rube Goldberg contraption blueprints and drawings of himself.
Virgin Volcanic- The Journey to the Center of the Earth
Clearly, the next logical step for Branson would be to venture to the center of the earth. The new space-esque ship would be fit with a drill-bit, and Branson and his crack team of geologists could journey to the core of the planet to understand how lava flows through the earth, and map out exactly how the layers of the Earth work to release temperature. Of course, this could pave the way for casual, center of the earth tourism, where sight-seers could visit the underbelly of their favorite volcanoes and and live out their Magic School Bus dreams.

Virgin Jurassic- Genetically Produced Dinosaurs
After traveling to nearly every reachable place, the next logical step would be genetic exploration. Instead of stepping into the future, Branson should bring the past into the present. What better way to do so than to genetically reconstruct the Jurassic Era? It's quite simple: Branson could offer up a private island or two (Necker Island, anyone?) and populate it with dinosaurs and other ancient flora and fauna. The ultra-rich could live their Jurassic Park fantasies, without the pesky security breach and T-Rex feasting from the film. Ever wanted to ride on the back of a pterodactyl? Branson could definitely make it happen.

Virgin Oneirologic- Real-Life Inception
After conquering reality, the dream-world seems like the next best place to go. Say that you have a business partner who needs to be talked into a dangerous merger, or your friend won't let you watch Ru Paul's Drag Race on Mondays. Never fear! Virgin Oneirologic will help you enter the dreams of your friends, enemies, and casual acquaintances to plant ideas into their heads. Branson, the leader and architect of the missions, will help you construct a fool-proof dream to keep you in hiding as you alter the deepest subconscious of your mark's dream-center. Virgin Oneirologic would be Branson's most expensive-venture to date, creating technology heretofore unheard of! Good show, Branson. Good show.

Virgin Aphrodisiac- Naked Women Outfitters
So, what could Branson do in his down-time? He certainly does love putting naked women on his back as he does stuff, so opening up the women-as-sportcoats market could be the next big thing! Imagine stepping into Virgin Aphrodisiac, which would outfit a customer with a naked woman based on height, weight, and preferred conversation topics. Then, Branson would guide the customer to do the sorts of things only Richard Branson would think to do with a naked woman on his back: windsurf, cross-country ski, skydive, etc. For those who want to go to the extreme, Virgin Aphrodisiac melds extreme sports with extreme nudity.

Virgin Anemic- Neo-Medieval Youth-Restoring Practices

Unfortunately,Richard Branson is getting old. At 60, he's no spring chicken, and he's going to desire youth to achieve his absurd dreams. The answer? Virgin Anemic. For a minimal cost to you, you can offer your blood as youth-rejuvenation solutions for Branson to bathe in. Sure, you're going to die, but think about it: your blood could help keep the nuttiest billionaire alive for another minute or two. In the long run, it's a huge service to society! Eternal youth is a luxury only the ultra-wealthy can afford, so why not indulge Branson? I mean, he is taking people into space, after all. And the deep sea. And the center of the earth. And making Jurassic Park. And real Inception. And giving you a Naked Woman Coat. Your blood is chump change compared to all that! How could you refuse?