A LinkedIn meets Deviant Art for queer artists—there was nothing like it out there, until two Boston University students created it. The website is called Interseqtion and it's a space for queer artists to connect, collaborate and support each other.
The idea came to Micah Domingo (CAS '10) in the shower (like most good ones do) about two months ago. He was already thinking about starting a queer hip hop collective, but realized he should expand it to include other art forms. He then called Ko Vial (CAS '12), a computer science major and artist, to join the project.
"I thought, this is exactly what needs to happen," says Domingo.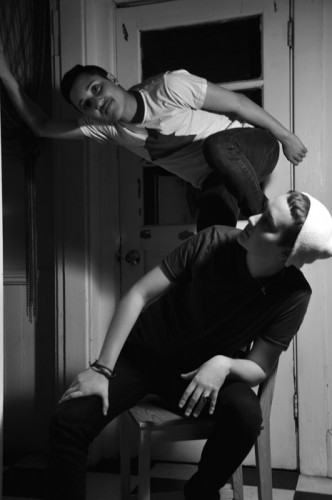 Interseqtion is for queer artists working in all mediums, from music to painting to literature to film. It is also open to anyone who represents queer artists, like a gallery owner. The site, which launches April 24, will allow artists to create a profile with a blog and a place for them to upload their work. Then, artists can friend each other and create interseqtions—collaborations between different mediums—like creating music for films or beats for a rapper.
The idea of the collaboration is important because it creates a community of support which many queer artists may not be able to find elsewhere.
"A lot of people aren't accepting of people who are sexually deviant or gender deviant in any sense, so who is going to have your back? It's going to be other queer people who are in that same position and those people are usually loving and caring and there's a great community behind that and we just want to make it grow bigger and make it more visible," says Vial.
As a trans man and a rapper, Domingo has dealt with adversity and criticism from other rappers.
He explains his story, as he transitioned from a female to a male, and how he was perceived by the hip hop community.
"I started out as a female identified person, lesbian identified. I had a lot of issues as a female in hip hop and then as I transitioned, I still experienced a lot of the same issues and then others on top of that: misogyny, homophobia, transphobia, and a lot of that stuff got me riled up."
Domingo says he was often excluded from collaborations because of his queer identity.
"I love hip hop, but at the same time it's an art form that promotes hatred toward me or anybody who's not this black male dominant person. It promotes a lot of stigma to someone who's not in that realm," he says.
"I always felt like I was getting passed up or people didn't want to collaborate with me because I was gay. A lot of people didn't want to touch me with a 10 foot pole. It was very annoying and obnoxious and hurtful because it was supposed to be a community, but yet I felt like I wasn't welcome there. I always felt like I was on the outside. I still do."
Interseqtion is a way to invite queer artists to collaborate and embrace their queer identity, including it in music and art openly and without fear of being shut out or criticized. Too often, the LGBT community does not have enough mainstream representation from artists, says Vial.
"What's the sort of visibility we get out of queer artists? It's like 'Born This Way' by Lady Gaga."
Art is a way for members of the LGBT community to express and interpret their queer identities. Vial and Domingo hope the site will give others the chance to connect and grow stronger together, until their voices are heard.
"Art is such a vital thing for queer artists because it is a way of being able to get out what you need to say without talking about it," says Domingo.
The more artists they can get involved, the quicker they can get their voices heard, says Domingo.
"The only way we can get ahead is to form really strong coalitions of people. The best way is to link up with someone else so no one can ignore you because soon enough there are 10,000 of you standing there."
Domingo and Vial are also hosting a launch party on April 24 at All Asia (or All Gaysia as their poster says) in Cambridge, where Domingo will rap his songs and other queer artists like Steph Barrak, The G Spots and Rizzla will play. It goes from 6pm-9:30pm and costs $3-$5 for 21 plus and $5 for 18 and under.