The Together Festival, Boston's annual weeklong electronic music event, is back this April 18 through the 25. This year's diverse lineup includes the likes of BBC Radio 1's Mary Anne Hobbs, DJ Switch of Major Lazer and local producers Hot Pink Delorean and Nooka Jones, among other acts. Danish producer Trentemøller will headline the festival's closing party on April 25, extending Together one day past its original April 24 end date.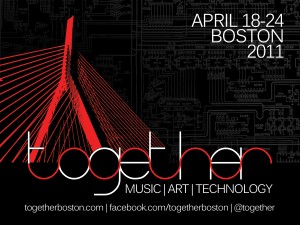 Founded in 2009, Together is unique from other electronic festivals like New York's Electric Zoo Festival and the renowned Electric Daisy Carnival in Los Angeles because of its its inclusion of demos, panel discussions, demonstrations, and film screenings. These events, as well as others in the daytime, take place in collaboration with Boston-based companies like Boston Cyberarts and Harmonix as well as Northeastern University and Massachusetts College of Art and Design.
"Together is a time where Boston tries to pull out all the stops. It's a great time to showcase and expose all the talent this city has locally, while also recognizing there are plenty of partygoers out there," said Jones, who will be performing at the Enormous Room in Cambridge on April 20. "There's something good every night of the week, and representing many different genres. It's a true inspiration for the city."
With over 80 events spanning the week, it can be hard to choose which ones not to miss. Check out this guide, compiled with the help of Together's top-picks (*), courtesy of Together, and Jones's personal must-sees (†).
Monday, April 18:
Pantha du Prince*
Performing with The Sight Below and B-Tracks at The Great Scott in Allston, 9:00 p.m.
Hailing from Germany, Pantha du Prince focuses on minimal techno and club mixes to start off the festival with a bang.
Fantastadon
Performing with Dev/Null, Die Young ft. Kate Radio, BBP, Ali Berger, LuneCell and Serial Krusher at TT the Bears in Central Square, Cambridge, 9:00 p.m.
The protégé of Boston trio Hot Pink Delorean (performing on April 25, see below), Fantastadon is fresh local talent at its best, specializing in hot electropop beats.
Tuesday, April 19:
Together Discussion Panel – Rebooting Live Instrumentation*
At Northeastern University's Fenway Center, 1:30 to 3:00 p.m.
Panelists Alex Russo of Blueboy Productions, Jake Boynton of Wobblesauce, Ed Guild of Psylab and Jonathan Wyner of M-Works discuss the integration of new technology into live performance and DJing. Moderated by New England Conservatory's John Mallia.
SBTRKT* and Dr. Jeep†
Performing with Incyde, Codiac, El Poser, Fens and Elkid at the Great Scott in Allston, 8:00 p.m.
Known for his masked façade, SBTRKT creates dubstep-influenced music, so christened "post-dubstep," while, according to Jones, "Dr. Jeep makes really interesting bass-oriented music; fun and danceable."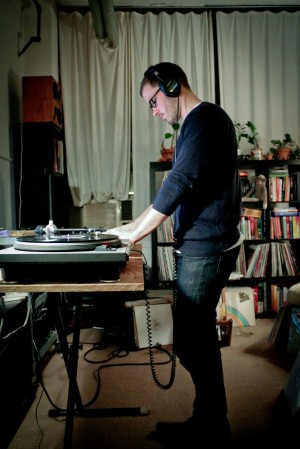 Wednesday, April 20:
Daytime Product Demo – Harmonix presents Dance Central*
Northeastern University's Fenway Center, 12:30 to 1:30 p.m.
Representatives from Cambridge video game development company Harmonix demonstrate their game Dance Central.
Ramadanman
Performing with DJG, Bassic, Moldy and Damian Silva at Goodlife in Boston, 9:00 p.m.
An up-and-coming dubstep producer, David Kennedy aka Ramadanman's forward-thinking take on the genre brings fresh perspective to his sound.
Nooka Jones
Performing with Christopher Wade at the Enormous Room in Cambridge, 9:00 p.m.
A Quad favorite, Boston University graduate Nooka Jones returns to his home turf. Influenced by genres from dubstep to ambient, his dynamic mixes always bring something fresh to the dancefloor.
Thursday, April 21:
Daytime Discussion Panel – Free Boston*
Massachusetts College of Art and Design Tower Auditorium, 3:45 p.m.
Panelists Greg Selkoe of the Future Boston Alliance and Karmaloop.com, Ace Gershfield of 6one7 Productions, Dave Ralph of Royale, David Day of DigBoston.com, Tito Jackson of Boston City Council and Chip Greenidge of the National Black College Alliance discuss Boston's urban development in relation to nightlife, community and journalism. Moderated by Dave Wedge of the Boston Herald.
Maya Jane Coles†
Performing with DLUX and Volvox at Middlesex Lounge in Cambridge, 9:00 p.m.
"I've been following [her] for about a year now, and she's both making and playing very interesting, forward-thinking tech-house" said Jones. The 23-year-old is one of the most notable up-and-comers to watch at this year's Together.
Friday, April 22:
Switch
Performing at Rise in Boston, 1:30 am
A Pioneer in the fidget house genre, Switch rose to popularity in his collaboration with fellow electronic producer Diplo under the name Major Lazer. He has also worked with a diverse range of artists, from M.I.A. to Christina Aguilera.
Saturday, April 23:
The Get Together*
Massachusetts College of Art and Design's Pozen Center, 12:00 p.m.
Together's signature daytime event brings a six-hour expo featuring art, fashion and music. The free event is in collaboration with the Boston Cyberarts Festival and works to foster the exchange of culture and information among festival-goers and representatives from the professional field.
Sunday, April 24:
Mary Anne Hobbs
Performing with Lorn, Mike Slott, Steppo, C Dubs, Blue Boy Productions and Professorpious at the Paradise Rock Club in Boston, 7:00 p.m.
Former BBC Radio 1 DJ and dubstep pioneer, legend Mary Anne Hobbs shows off her rich background in electronic music in her diverse mixes. She is known for her collaborations with dubstep producers world-wide, like Netsky and Kode9. Definitely the one event not to miss in this year's Together lineup.
Monday, April 25:
Trentemøller
Performing with Dorit Chrysler at Royale Boston, 7:00 p.m.
Danish producer Trentemøller might be best known for his remixes of fellow European electronic artists like Röyksopp, but his original productions bring a realm of experimentation: a little ambient, house-y and sometimes a bit minimalistic, that you have to hear to understand.
Wolfgang Gartner and Hot Pink Delorean
Performing with Harvard Bass, Fantastadon and Eli Wilkie at the Middle East in Cambridge, 8:00 p.m.
Internationally-recognized electro house producer Wolfgang Gartner and local dance electropop trio Hot Pink Delorean come together in one of the final events of the festival.
*Together Festival's official top picks
†Nooka Jones's must-see picks
For more information about the Together Festival and a complete schedule of events, visit www.togetherboston.com.