The intricacies of one of Boston University's latest intercollegiate sports fill the international league's official 54-page rule book: each team must have seven players on the field; scoring hoops and field size must meet measurement regulations; a match only ends when another player removes a sock with a tennis ball in it from out of another player's shorts; tackling and charging opponents is permitted, but cape-wearing is specifically cautioned; all of a team players must be on brooms, at least 40 inch brooms to be precise.
Though Quidditch has every qualification needed to be an official sport, the game's inherent whimsy is inescapable.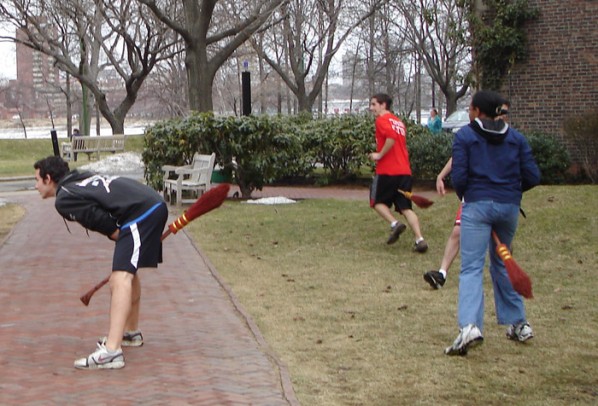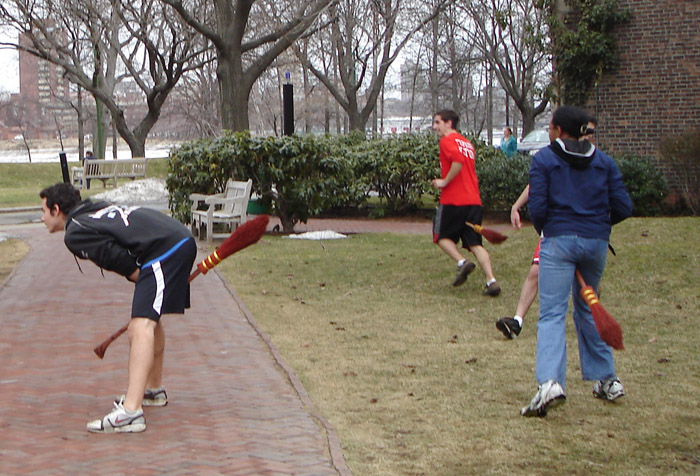 "I think [the appeal of Quidditch is] because we don't take ourselves that seriously, cause you can't…Like, no matter how physically demanding it is, no matter how intense you get, at the end of the day we're running around on brooms and we're trying to catch a sock out of someone's pants," said BU Quidditch team treasurer Katie Stack (CAS '11).
Intercollegiate Quidditch is adapted from the popular children's book series, Harry Potter. While Quidditch in the books involves flying broomsticks and magical balls, the game was altered to be played by "muggles" (the books' term for non-witches and wizards) by Middlebury College students in 2005. The game quickly developed into a full-blown sport which is now regulated by the International Quidditch Association (IQA).  BU's team is one of 103 collegiate teams in the U.S. and competes with teams from all over the nation and the world.
"Every sport is kind of imaginary, you have to come up with it … this is kind of a way that you can continue the spirit of Harry Potter, since we've grown up with it," said BU player Alice Crowe (CAS '14). "I feel like we're the Harry Potter generation."
BU's Quidditch team was founded in the spring of 2008, according to Stack, one of the original team members. The team currently has about 60 players, though only a sporadic number of players show up for the team's weekly two-hour practice. The team is listed as an official student club on campus, and is run and coached by a five member executive board.
Quidditch gameplay involves seven broom-riding players per team who work to score points by throwing a volleyball, known as the "quaffle," through one of three scoring hoops. Three players handle the quaffle around the field in attempts to score, and one player defends the hoops. Two players throw dodge balls, known as "bludgers," at opponents to knock them out of play, and one player is responsible for catching the Snitch, the tennis ball in a sock attached to the back of one player's shorts. That player, unassociated with either team, hides on or near the field to prevent the Snitch from being captured. Once the Snitch is captured, the game ends.
When BU's Quidditch team was formed, Stack said the majority of those interested joined because of their love of Harry Potter. The team's numbers have grown since its founding; the team now also draws people who enjoy the sport's athletic demands.
"The people who are just in it for Harry Potter kinda thought [the team] would just be jogging around on brooms and just tossing a ball around," said BU Quidditch Team President Joe Barkus (SMG '13). "But then, someone gets tackled and then they're like 'Oh, this isn't for me anymore.'"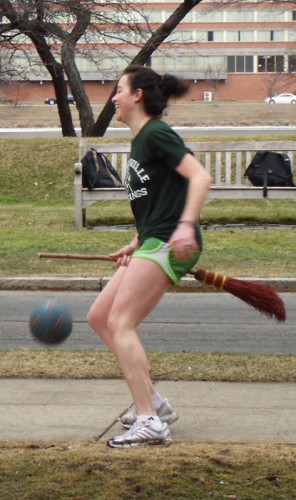 "I saw it at Splash [BU's club fair for incoming freshmen], and at first I feel like … it's something that you see and you just like think it's a joke," said Katrina Bossotti (CAS '14). But once she started attending practice, she realized Quidditch was far from laughable.
"I love sports as it is, but this is completely different," she said. "I mean, first of all there is a broom in between your legs obviously, but even it's like a mix of dodgeball, rugby…It's like a big combination of everything."
With its mixture of Harry Potter aficionados and serious athletes, the team's athletic abilities vary. Yet, when the time comes to compete, BU has enough physically skilled players such that they are a force to be reckoned with on the field, according to e-board members. During BU's first Quidditch tournament in late February, the BU team beat out several local teams and took first place.
Most games that the BU team plays are casually set up between other Boston-area college teams, like MIT, Tufts, Harvard and Emerson, in order to prepare for the handful of more competitive regional tournaments. The IQA sponsored World Cup serves as the league's open championship tournament.
"In a tournament, you're on the pitch, you're trying to score, you're not going to sit there and go, 'Oh I should take this seriously.'  You're going to take it seriously in that moment," said BU player Kedzie Teller (COM '12).
In a game that permits tackling and charging other players, concussions are far from unheard of. One former player had to quit the team because of the concussions she had received from Quidditch and other sports, Stack said. A current player chipped his tooth on another player during practice this season.
"If you're a chaser on the team, you can pretty much bet sometime within the four years of you playing here on the team you'll probably either get sent to the hospital, maybe stitches or a concussion," said Schretzenmayer.  "At the World Cup you see paramedics running around."
But despite the risk of injury, players typically wear little protective gear.  Players now use mouth guards, and those who wear glasses often put on protective lacrosse goggles.  Capes were once a prevalent part of team uniforms but were recently dropped due to the choking danger, Teller said.
Yet amid the bruises and broomstick regulations, Quidditch itself cannot escape its childhood lark origins.
"When you're heading off to practice, and you're walking in the street and you have cleats in one hand and a broom in another and a bunch of people who don't know what Quidditch is walk by you … you can't help but laugh and know that you're part of something that's just goofy," Teller said.
For this reason, the BU team hopes that Quidditch will remain a club sport. They worry that if Quidditch became an official NCAA sport, politics and bureaucracy would take over the game's atmosphere with rules about how much each team can practice and if players can be paid to be on the team.
"It would take the magic out of it," Teller said.