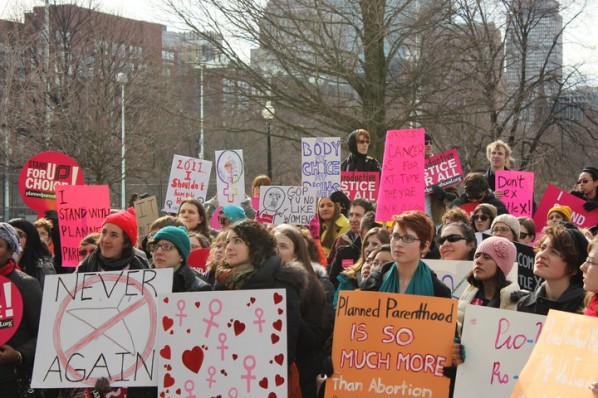 Planned Parenthood's Title X funding remains intact, at least for now. On Wednesday, the Senate blocked the House of Representatives' spending bill, a highly-anticipated vote on a controversial series of bills including an act that would strip Planned Parenthood of its funding and threaten the primary healthcare provider of three million low-income women in America.
The bills target abortion and women's right to choose. The Abortion Provider Prohibition Act prevents federal funding to be distributed to any organization that provides abortion services, regardless of the fact that using federal funds towards abortions is already illegal. The No Taxpayer Funding for Abortion Act and the Protect Life Act target insurance companies and their consumers, making it more difficult and expensive to legally receive an abortion.
Massachusetts Senator Scott Brown voted in favor of the Abortion Provider Prohibition Act, although a survey conducted by the Democratic firm Public Policy Polling reports that just 27 percent of Massachusetts voters support pulling funding from Planned Parenthood.
Senator Brown is one of many moderate Republicans feeling the pressure from both sides of the abortion debate, which has heated up over the past couple months.
"[The spending bills are] a painful vote for those who still cling to the belief that they are moderate Republicans," said Senator Dick Durbin, the Democratic whip in the Senate. "I can think of a half-dozen Republican Senators who do not want to be on the record for cutting Planned Parenthood… now they're stuck, take it or leave it, and I think they want to leave it."
The pro-life side of the debate is headed by Republican Senator Mike Pence, who introduced the Abortion Provider Prohibition Act. A pro-life group called Live Action drew further attention to the debate when they conducted an undercover video "sting" that allegedly exposed Planned Parenthood employees' willingness to aid underage sex workers, though the credibility of these videos is questionable.
The pro-choice side has sprung to action as well, organizing "I Stand With Planned Parenthood" rallies internationally, including Boston's "Walk for Choice" which took place on February 26th. An additional "Walk for Choice" will be taking place in Boston on March 26th.