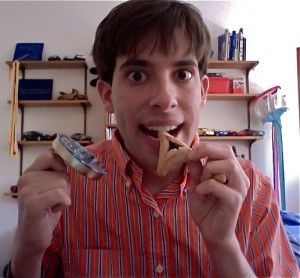 Dozens of spring breakers left the beach and flocked to their TV screens Wednesday night to take part in the most important event of the week: a new Top Chef episode! Sadly, this episode was still not the finale.
For the Quickfire, Padma was joined by guest judge Lorena Garcia, permanent judge for NBC's new series, America's Next Great Restaurant. It's amazing how Top Chef was able to get her to guest star. It's not like Bravo and NBC have the same parent company and are caught in a web of shameless self promotion or anything like that…
The chefs had to work in pairs to create 100 identical dishes in one hour. Richard and Mike paired up to make homemade macaroni and bolognese, while Antonia and Tiffany made a seared beef tenderloin salad. The teams trash talked each others' dishes, the boys saying the girls' was "slice and serve," and the girls saying the boys' was just scooped onto a plate. The girls ended up winning, with their more complicated plating setup earning favor.
For the elimination challenge, the chefs were taken to a deserted island and had to cook a lunch for the Yacht Club that highlighted conch. When they arrived at the island, the chefs realized that they had to go snorkeling to catch their own conch, which caused Blais to lament, "I don't want to see Mike Isabella topless, and you don't either." Truer words were never spoken.
Using only wood-burning grills and local ingredients, the chefs made some impressive food (which the judges praised for not having any sand in it!). Blais said he prepared for the finale by "baking bread," and "growing a beard." Ron Swanson would be proud.
When the diners arrived (wearing all white, like some crazy cult), Blais served his take on linguine and clams, which he called linguine and conch (though his linguine was made out of shaved sweet potato). Richard was worried that his dish was too "Hamptons" and not tropical enough for the diners, but everyone seemed to enjoy it, except Lorena Garcia, whose lobster was undercooked. Antonia made seared snapper with conch tartare on top. Tiffany plated her soup too early, causing it to get cold by the time it was served, and Mike made banana leaf-wrapped grouper with a conch vinaigrette.
Though the judges enjoyed all the dishes, they had to get nit-picky at the Judges' Table. Antonia's fish was cooked unevenly, and Padma called it "predictable." Tom praised Richard by fooling him into thinking the strips of sweet potato were real pasta. Tiffany revealed that her chowder was supposed to be hot, though it turned out to be cold, and Gail swooned over Mike's savory curry pineapple. Somehow, Mike won (?) leaving me thoroughly confused, and Tiffany was sent home. It's a little sad, but it was Tiffany's time to go … about 7 weeks ago.