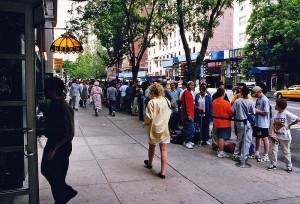 While there are some shows I make time for to watch every week, my list gets pretty full, and it eventually gets to the point where I've missed more than a couple episodes that have aired. But the days of waiting for the next re-run are gone. There's DVR, on demand, video hosting and (for the very patient) DVD box sets.
So there are quite a few shows that require viewing multiple episodes in one sitting. But be warned, fellow primetime zombies, there are ups and downs to vacuuming up too many episodes at once.
PROS
It's a better way to judge a show
While some shows are easy judge, not every show as good or bad as its pilot. Watch a bunch of episodes at once, and you can probably determine if a show is formulaic, dilutes in quality over time or gains momentum. It makes it easier to decide if the show is worth your time.
Nearly immediate gratification
With shows that have high levels of continuity, it is easier to follow along when you watch episodes close together. We do not need opening summaries or hour-long recap specials. Even better, cliffhangers aren't so torturous when you don't have to wait a week (or a summer) to find out what happens.
CONS
"Here be spoilers"
I may be able to hide myself from spoilers, but the risk becomes greater the later you watch the episodes. You could see Facebook/Twitter posts about plots or some jerk could just say that Snape killed Trinity with Rosebud. But more likely, you'll be tempted to read a recap of a cringe-worthy moment instead of enduring the scene in one go. And television is not meant to be read!
In the meantime…cancellation
Unfortunately, the ratings that networks largely rely on to decide the fate of shows are only counted when viewers watch the same commercials as the live broadcast.  So if everybody waits to view their shows online, the network will probably pull the plug when we have just a few more episodes to go.
I know I am not alone in this alternative mode of television consumption. But is too much to ask that every show be aired in marathon format?  Probably.