Snow is melting, temperatures are warming up, and goddammit, I'm graduating.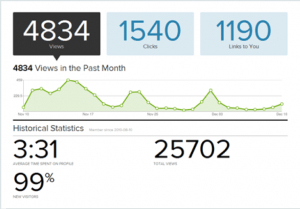 Not now, but soon. I understand I have a few months before I put on my big girl boots and get to steppin' out into the real world, but the organizer within me refuses to take change lying down. So, I've made it a personal goal to stay on top of my life and prepare for the rapid changes that are about to occur.
The problem is, I've barely got enough time to do the work I have, let alone manage the new grown-up life ahead of me. So, I've made a compromise: plan my future from my office chair. By using our hyper-connected world to my advantage, I've found a few select apps that will certainly make you feel like an adult:
About.me— If you're one of the people who have secured a job immediately after graduation, I salute you. For an aspiring journalist like myself, getting noticed by picky employers is a little more difficult.  Enter about.me, the internet's answer to an old-school calling card. Not only can you make a personal splash page, but you can hook up your personal website, LinkedIn, Facebook, and practically any link possible. In the middle of networking and too cheap to buy business cards? Send them to your page (or mine).
Mint.com— Gone are the days where you can avert your eyes and simply believe you can afford those Simian Mobile Disco tickets and an all-inclusive Spring Break to Tijuana. It's not pretty keeping track of your money sometimes, but Mint helps you get a handle on your spending. Using ultra-safe secured servers to access bank information, Mint breaks down your spending purchase by purchase and organizes them into categories for easy reference. It also helps you set goals for spending, tracks your credit activity, and alerts when, God forbid, payments on student loans kick in.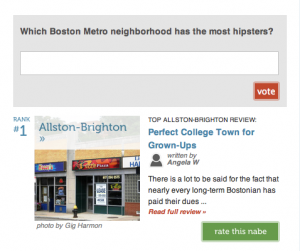 Nabewise.com— Looking for apartments can be a hassle, especially when it involves plenty of neighborhood scouting. Whether moving to a major city or just looking for a place out of Allston and Brookline, Nabewise has got you covered. Neighborhoods are placed in extensive lists, so scouters can tailor their search for a place that has their ideal vibe. Looking for beautiful singles in Boston? Check out Back Bay. Queer-friendly area with great Farmer's Markets? Jamaica Plain could be for you. Even better, Nabewise works with realtors in the area, allowing for smooth transition into the apartment for you.
NakedApartments.com— Ready to blow this Popsicle stand and move out to the Big City? New York is calling, and now's the time to think about apartments. And, while you can skim cheap tickets on the Fung Wah (or maybe the $1 miracle on the MegaBus) ferrying back and forth to see apartments can be an extra stress upon what is probably one of the most excruciating processes in American culture. On Naked Apartments, realty brokers come to you. Just put together a customized profile with your budget, ideal neighborhoods, and particulars (pet-friendly, anyone?), and you'll get back a list of apartments for sale that match your needs. Plus, the more you go on, the more matches are made for you, and the more opportunities you have to find the apartment of your dreams. Just be ready for the influx: Brokers are antsy and have plenty of product to move, so the site is for serious relocators only!
SplittheRent.org— Apartment? Check. Roommates? Check. Rent Hassles? Likely. Sure, splitting rent with your friends is necessary to get a great pad on a minuscule paycheck. But, what happens when there's a roommate who wants dibs on the master suite? Or, if you share with a couple who takes one room? SplittheRent is an effective rent calculator that not only factors in room-size comparisons for up to 8 bedrooms, but closet sizes, room layouts, windows and even common room space. The result is a comprehensive rent-splitting system, so everyone feels like they're paying their fair share.
MoveOut.com— Even when everything seems to be in order, the final obstacle is in sight: moving day. Let's face it, no one likes it. Packing up your goods is a hassle at best, a downright nightmare at worst. And, when you're making a DIY moving trip, coordinating boxes and supplies can be a pain. MoveOut.com is there to ease the pain a little by providing free shipping of moving kits. Complete with multiple-sized boxes, bubble-wrap, tape and a permanent marker, kits developed in coordination with the number of rooms to be packing for. The prices appear steep, with $52.50 for a one-room kit, but with 15 boxes it's easy to split with a friend and forego the shipping price. The best part is that every order is expressed and shipped the same day, so the boxes you order on Monday will be there as early as tomorrow and you can start packing your junk up as soon as possible.
Craigslist.org— No grown-up arsenal would be complete without Craigslist. The classified website is like a flea market: there can be a lot of junk to wade through, but there's a high chance for a great find. Everything from a temporary job to a coffee table is within reach, and it's definitely the quickest and cheapest way to furnish a new apartment with goodies. A great highlight is the oft-forgotten "antiques" section, which has some great looking art and furniture at a deep discount. Craigslist is a dream for those who have cars, but if you don't, make sure you utilize a ZipCar or similar service to pick up your new items; nothing is more heartbreaking than accidentally damaging your purchase even before bringing it home. Also, as always, stay smart: a good consumer is a knowledgeable consumer, and please never ever buy a mattress!
Add these websites to your bookmarks, and you'll be ready to be a big kid in no time. Happy graduating!