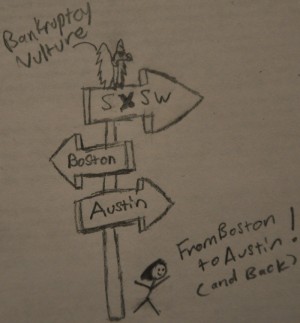 The Quad is bound for the South by Southwest Film Festival (SXSW) in Austin, Texas over spring break. If you don't follow us on Twitter or haven't noticed the little ads to the side of the page, now you know.
I am going to represent the Quad at a major international film festival. And I can't afford to go.
First, a little back-story. I applied for a press pass to SXSW on a whim. I never thought that a college film critic would be awarded a free pass to one of the most prestigious independent film festivals in the world. Weeks passed by, and I was sure my application had been cast aside.
But then a week ago, a received an answer in a detailed email, written in the formal prose of a college acceptance letter.
"Thank you for your patience with the application process," it began. "We are happy to inform you that you have been approved for a 2011 SXSW FILM Press Credential."
Tears of joy, ecstatic phone calls, lots of hugs, and  a mini asthma attack later, it hit me. With the couch-leaping energy of a young Tom Cruise, I realized that I, a film nerd who accidentally fell into the world of criticism, would now be heading west. South by Southwest.
Part of the reason the approval hit me so hard was the weight of the cost. Sure, I had my $500 press badge free of charge, my refurbished laptop with a fresh battery, and a brand-spanking new camera ready to go, but that was it. No plane ticket, no hotel, no taxi money, no food. And trains, planes, and automobiles are not the thing independent college magazines can usually budget for. The Quad operates from the goodness of our hearts. Our staff is composed of the most literate Care Bears you've ever seen.
Sadly, airlines do not trade hugs or awesome baked goods for tickets; however, they now possess a major chunk of my savings. To add insult to injury, I still had a hotel or lodging of some sort to work out for my week-long stay. The cheapest shelter I could find was an Austin hostel, located about 1 mile away from the SXSW epicenter.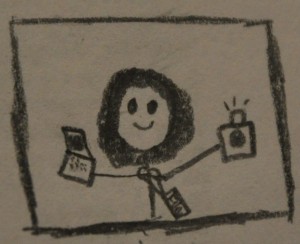 To fund my odyssey (and my meals), I created an Indie-Gogo account, which acts as a collection box for independent causes. But after an initial frenzied rush, the rate of donations slowed. That's where you come in, dear reader.
I'm past the days of selling over-priced cookie dough, chocolate bars, and ugly holiday gift wrap to unsuspecting adults and magically racking up hundreds of dollars in sales. I can't offer you Girl Scout cookies or lemonade by the plastic cup. What I can offer you is more film festival coverage than you could ever dream of. You'll get daily updates, journal entries, breaking news straight from the red carpet, photos, videos, and reviews of the hottest new releases months before they hit theaters.
But I can't do it alone. I need your help. Your donation, no matter how small, will help me offset the $800 price tag for this great adventure in reporting and let me cover even more events once the festival starts. Plus, you'll earn a special perk from me, from exclusive photos to daily personal emails. I may even throw in some baked goods after all.
I've already received lineups and listings for screenings in Texas. I'm pretty sure I'm not sleeping much the first few nights, unless it's outside the movie theaters and exhibition halls. Once all the goodies have been finalized within the next few weeks, you'll hear from me again. Get excited.
And of course, if you're crazy such as myself and are SXSW-bound, feel free to contact me. Or if you're an Austin native and would be willing to show me the local sights, in true Southern hospitality fashion, I would appreciate that as well. Or you can donate to the cause. Any little bit helps me provide you with the best, most exciting festival coverage.
Finally, I promise to stop drawing the creepy stick figures, so long as you help me get to Austin and back to Boston again!