On Thursday night, Art Institute of Boston senior Brianna Calello showed a photograph of a woman with some planning notes and a plaque that stated "You always get scared to shoot things the way you want to."  The photograph was very different than the planning notes described, the statement on the plaque described. That was the main idea of the exhibition: to capture an artist's work before they become afraid of it.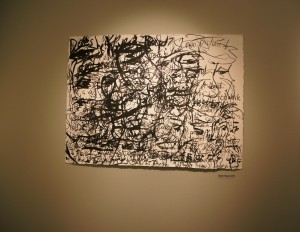 The public only sees the finished product of an artist's work, not the mistakes, misplaced brushstrokes, muddied colors and mess of emotions that an artist pours into his work before displaying it. Opening Reception: "A Private Glimpse," held in the Rubin-Frankel Gallery at Boston University's Hillel House, made this process public by featuring the unfinished works of local students.
"Most people don't have the opportunity to see an artist's process," said BU junior Alicia Link. "In terms of my work, I think my unfinished paintings are more successful and exciting."
Link showed colorful figure studies at the exhibition, in varying stages of completion. "When I approach the end of the painting things can become static and too certain," she said. "I think the ambiguity of the unfinished work is exciting for both the artist and the viewer. "
As guests mulled around the gallery, sipping wine and sampling snacks available at the entrance, there was an air of excitement, as Link suggested.  Artists and viewers alike gazed thoughtfully at sketches and halfway-there paintings, projecting how they might turn out, picking apart the process and trying to get inside the artist's mind.  Link argued that unfinished work engages the viewer more so than finished work because of the uncertainty.  "The painting is alive and has so much potential," Link said.
The exhibition featured many Boston University student artists, as well as others from local schools such as School of the Museum of Fine Arts and the Art Institute of Boston. Although BU's College of Fine Arts and 808 Gallery have many opportunities for student artists to showcase their work, it is often underrepresented on the main campus. There are, however, places on campus outside of CFA that make an effort to help out the local talent.  The Women's Resource Center and Espresso Royale both hang student artwork on their walls.
"Because the work is confined to the certain buildings, most people don't have any idea what young artists are doing. It seems that artists are aware and recognize other artists, but it stops there," Link said.