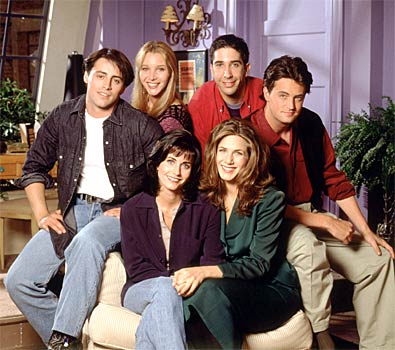 It's been seven years since the final season of Friends aired. A lot has happened since then; the public had to find a new hairstyle to emulate, unfortunately going with the Snooki poof; NBC went from the golden years of Seinfeld and Friends to now being ranked fourth out of four networks, and was recently bought by Comcast; and Courtney Cox went from playing closet-fatty Monica to botox-facey Jules. All the while, syndicated re-runs have allowed old and new audiences alike to indulge in what was once the hottest television show around, Friends.
So, where are they now? According to the celebrity gossip fixtures, Jennifer Aniston is playing tea party with her seven cats named Brad, and Courtney Cox is struggling to understand what she ever saw in David Arquette as the separation from their marriage causes him to act a fool.
While the public drama kept them in our hearts and our news feeds, we missed seeing them on our television screens. However, we remain thankful they never made a Friends movie, because it would have ruined the whole thing. Cough, Sex and the City, un-cough.
Luckily for (most) of them, they've found work on the small screen yet again, so we can get back to gathering them all in one place and pretending they're all best friends in real life. You are such a Monica!
Award for cutest couple goes to Jenny Aniston and Courtney Cox, who have stayed friends after Friends. Cox stars on the ABC hit Cougar Town, which is about a divorced mom reclaiming her 40s and hookin' up with younger men. Who knows, after this split from Arquette she could very well start making this a reality show. Can someone get Courtney an Ashton Kutcher, please?
Cox spreads the love right on over to fellow Friends alum Lisa Kudrow, who also made an appearance on Cougar Town. Cox returned the favor by appearing on Kudrow's online TV series, Web Therapy.
I applaud Kudrow for her post-Friends career because she always does things a little differently. Like Phoebe, if you will. In 2005, Kudrow's first experiment was with her series The Comeback on HBO. The show tracked Valerie Cherish (Kudrow), a former sitcom star, as she tried to resuscitate her career by filming her daily struggles as a reality show. The mockumentary series only lasted one season. Sigh.
Web Therapy, however, has been airing online since 2008 and Showtime plans to begin airing episodes on television. Kudrow plays Fiona Wallace, a therapist that is more concerned with her own problems than her patients' and decides to limit her services to 5 minute web chats. Cox numbers among many talented guest stars such as Julia Louis-Dreyfus, Rashida Jones, Jane Lynch, and Molly Shannon. Episodes are anywhere from five to fifteen minutes long.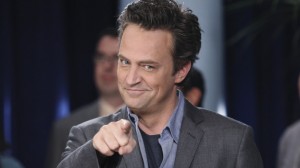 After Matt LeBlanc's post-Friends fail, (Joey) he disappeared for awhile. However, Showtime tends to have a knack for getting TV stars back on TV and owning it (David Duchovny, Edie Falco, Michael C. Hall, shall I go on?) and it's no different this time around. Matt LeBlanc plays himself as British couple Sean and Beverly Lincoln (Stephen Mangan and Tamsin Greig) attempt to remake their hit British TV series in the US with LeBlanc as the star.
Critical reception for the series thus far has been mainly positive, and audiences are so loving LeBlanc that he is anticipated to get more screen time as the series progresses. Episodes premiered on January 9th and airs every Sunday at 9:30pm on Showtime.
While he's not busy starring in Zac Efron movies, Matthew Perry has been working on a little sitcom of his own. Mr. Sunshine is set to premiere this February on ABC and stars Matthew Perry and Allison Janney as Ben Donovan and Crystal Cohen. Ben is a sports arena manager that goes through a mid-life crisis when he turns 40, while also having to deal with his unusual job and boss, Crystal.
The series looks promising due to its high demand and the bidding war it caused between networks seeking to claim the rights to it. We'll find out if it was worth the fight when it premieres February 9th at 9:30pm.
Despite her brief cameos in shows like Cougar Town and 30 Rock, Jennifer Aniston doesn't seem to be making any permanent moves back to television. But then again, why should she? The Bounty Hunter, Just Go With It? Quality, quality stuff. Sarcasm.
David Schwimmer is…well…he was on an episode of 30 Rock once. Oh and an episode of Entourage.
Cure your insatiable hunger for the cast members of Friends by tuning in to their latest projects. Or watch Friends reruns, it's up to you.