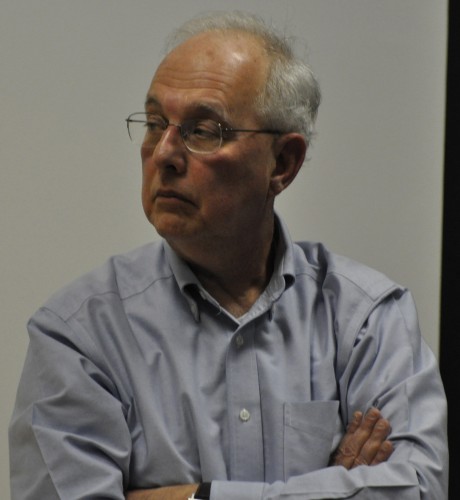 When one skims brochures aimed at recruiting freshmen, they seem to be brimming with gleaming stats, beautiful aerial views, and smiling faces. After the shiny newness wears out and the worn-in feel of seniority sets in, it's hard to find that excited feeling for any on-campus events. Darn it, some of those posters start to look the same. But there's one  poster hanging in the halls of BU College of Communications that's just a tad different, and it doesn't have to do with aspect ratio. For this little poster, advertises the next sneak peek into the world of cinema. For movie fans, what's new is always what's playing at the BU Cinematheque.
Boston University's answer to the Harvard Film Archive began back in the mid-90s as a platform for lesser-known directors to show their work. Dr. Gerald Peary was then a professor at BU and a critic for the Boston Phoenix. He founded the BU Cinematheque originally to showcase the best of independent movie makers and writers. It remains their mantra today. "Students don't know what they want to watch. I know what they need to watch," is the rule Dr. Peary uses to decide which movies to screen. Dr. Peary continues to scout potential filmmakers out in the trenches of film festivals. However erratic and esoteric the selections may appear, many share a common focus."I look especially for BU grads," he said, citing a connection with the students in the audience. In addition to Dr. Peary, the BU Cinematheque is maintained by Film and Television grad students.
Screenings of these discovered gems are held in the Communications building in room 101. It's clearly one of the classrooms most resembling a theater, complete with cushy seats. But while HFA may focus on international independent films or obscure cinema and MIT's Lecture Series Committee is practically a second-run movie house in a classroom, BU Cinematheque stands out as a true platform for independent work. Besides, this is possibly the only other venue other than HFA that regularly screens movies with their creator, a very rare treat in the world of agents and scheduling conflicts.
The majority of attendees at the first screening of the semester were Film and Television majors. After attendance began to drop a few years ago, the department instituted the BU Cinematheque as a requirement for majors. However cumbersome it may have been to disrupt the Friday evening of college students, the exasperated groans and rolling eyes looked to be absent at that night's screening. Dr. Peary laughed with Paul Schnieder, chair of Film and TV department, about making attendance to the BU Cinematheque mandatory for his students."It's really helped attendance," Schnieder said. "It would be nice to see other students from outside the department come and see what we've got here."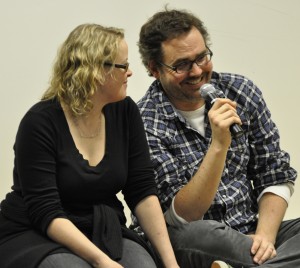 This semester's first screening posed a bit of an ironic problem for Gerald Peary. In addition to his work in criticism, Peary became a first-time director in 2009 and entered his low-budget documentary on the history and cultural significance of film criticism into the festival circuit the following year. For the Love of the Movies was passed over at the South by Southwest Film Festival in favor of the oddly named Marwencol. The documentary's leading man, Mark Hogencamp, lost his memory in a senseless beat down outside of his hometown bar. As part of his physical therapy, he picked up an unusual hobby in order to relearn motor skills: figurines and dolls. Soon the figures in his collection began to represent the people in his life and a new town-within-a-world was created. Hogencamp began to document his WWII-esque adventures in photography, and this documentary follows the trajectory of his possible new career as an artist. Brave, touching, and hopeful, it swept 13 awards including the Independent Spirit Award and and Boston Independent Film Festival's Special Jury Prize. Peary knew he had to get director Jeff Malmberg to BU.
Following the screening, the tradition in BU Cinematheque is to close with a Q & A with someone associated with the film. Since the crew of Marwencol numbered at around three, director Jeff Malmberg and his wife took questions from eager film students curious on how he found Mark and how the town of Marwencol is doing since the documentary was filmed. Yes, both director and wife have their own alter-ego doll in Marwencol too.
After the session disbanded, a good number of students stuck around to talk one-on-one with the director. How often do you see that on the BU main page or its advertisements? Even shiny new posters can tell you of everything that's going on-campus. Not to mention that this experience comes at a college student-friendly cost: free of charge.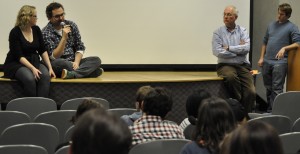 Who said staying on-campus was no fun?
This semester's screenings of the BU Cinematheque will be held Tuesdays and Fridays at 7 p.m. in Room 101, BU College of Communication. This Friday (2/4), Naghmeh Shirkan, a BU grad, will screen and discuss "Neighbors." Check the program's site for the latest updates and a complete schedule.