Today, students will have a new set of internet and mobile apps to tap into when facing some of BU's most daunting tasks as the Boston University Student Union rolls out its new tech project, "Super Suite". Coordinated by Union VP Daniel Ellis and programmed by web-savvy BU volunteers, "Super Suite" offers an array of specially tailored programs that can be accessed either through a mobile phone or the Student Union Website. The Quad got an exclusive peek into the new suite, conducted a full-review and sat down with Ellis to discuss the nuts and bolts of suite development.
The new apps are as follows: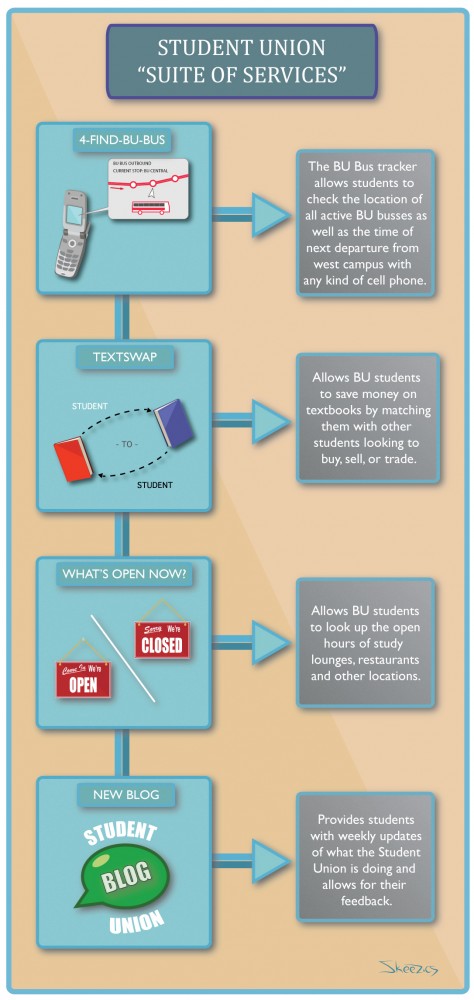 These features are simple, but much-needed. The BU Bus app,  is solving the frustrating BUS location problem; as we all know, the whereabouts of the BUS at any given time are too random to calculate, and beyond the morning hours the time table becomes useless. While The BU Mobile App has added a "BUS Tracker" recently to alleviate this problem, those without smart phones have been left out of the loop and forced to continue the random-guessing game that often happens when trying to procure wheeled transport around campus. With a text service, students can locate a bus without the need for a pricey phone. However, there is currently no "Estimated Time for Arrival," built into the system, which doesn't do much for the long waits that occur.
"We thought it would be better based on traffic conditions if we just tell the students where the bus is rather than telling them it's going to be five minutes and then them getting frustrated when it's not there," Ellis explained.
"TextSwap" is another big service, circumventing the disappointing experience of selling back your $50-$200 textbook for little more than pocket change at the BU Barnes & Noble. Matching students by need and supply and allowing buyers and sellers to come to their own agreement about prices is a boon, especially when cutting out the extra cost of shipping that posting books on Amazon usually tacks on. By keeping textbooks active within the student body, and tracking ISBN numbers to ensure proper editions are circulating, TextSwap has the potential to simplify the arduous text book game. While it needs a critical mass to function at an optimal level, the promise of finding a local, cheap, and easy way to buy and sell textbooks may motivate students to take advantage of the program. Check out this nifty how-to guide about it:
"What's Open Now?" fills a gap that the administration has never made clear: building hours. Though the app is partly redundant, as BU Dining is actually on top of when all the food joints on campus close, tracking down late-night spots in the thick of finals season isn't easy. After 10 minutes of creative Googling, I couldn't find out the hours of the General Classroom Building on any BU-affiliated website. But, the app itself isn't necessarily intuitive, with no click-throughs from locations listed to the corresponding map. Essentially, you can find out how long a location is open, but if you don't know where it already is, you're going to find a heck of a time pinpointing it.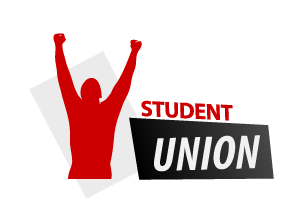 Finally, while not helpful in the ways that the previous apps in the suite are, The new Student Union blog attempts to forge a medium of transparency to BU student constituents. While currently an already-completed list of things the Union has done this year, with neatly ticked-off check marks to indicate a job well done, this could become a way to acknowledge progress if the Union puts up ideas as they're proposed. The Union hasn't really had the best reputation of getting things done for the school in a timely manner, so the motives behind this new transparency are easy to ascertain. Ellis said that the Union at this stage is always looking to improve.
"Right now, we're going to have an internal focus for the end of this semester and take a fresh look at the issues next semester," Ellis said.
In any case, this "Suite of Services" is an opening gambit for this Union to make a case for its productivity. Ellis hopes that this Suite will be expanded, modified, and tailored to fit the student body it targets, but it's all contingent upon reaction, response and, most importantly, critical feedback. This suite is an optimistic turn and perhaps a promise of faith in the Union's abilities.
"I'd say this is going a long way to providing a long way to providing students with what they need," Ellis said.