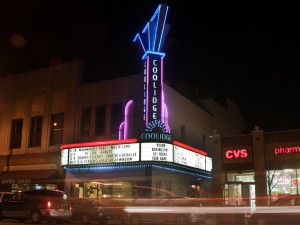 Once again, the beauty of being a resident of the Boston area is dawning on me. Impending winter winds notwithstanding, it's a very good town to be a theater-goer of the underground variety. Boston is home to some of the strangest and challenging marathons out there. Yes, the Boston Marathon is tough, but how about a 24 hour Sci-Fi marathon or being stuck in The Room for any amount of time? Here's just a few of the precious local moments in our independent theaters:
Coolidge Corner, The Room, and other things that go WTF at midnight: I'm not going to adopt some unbiased journalistic tone here: I love the Coolidge Corner Theatre. And it's not just their adorable neon-lit sign either; it's the art deco class mixed with the wacky crew that hosts their midnight series. Every month brings a new, twisted theme on anything from horror and action-packed cop dramas to a John Hughes tribute and celebrating the Apocalypse. But that's not the only thing that creeps through the Coolidge. Once a month, one screen is dedicated to Tommy Wiseau's seminal classic, The Room. Quite possibly the newest Plan 9 from Outer Space, this odd campy mess is watched loyally by fans and curious onlookers alike each time it graces the screen. Check it out for yourself next month on December 11th, and check the Coolidge website to see what's happening at midnight this weekend.
Brattle Theater and the Casablanca ultimate date night: Classic movie lover or not, you would probably recognize the movie above. Rick's Café, "Round up the usual suspects," and "We'll always have Paris" have burned themselves on the lexicon of pop culture. Every Valentine's Day, couples both young and old descend on the Brattle's single screen to watch Casablanca. I haven't had the fortune to go with a significant other, but I have seen the Humphrey Bogart and Ingrid Bergman affair on the Brattle's antique screen. There's nothing quite like a crisp film print, a booming score over the speakers, and that good old Warner Brother's quality being brought to such a silver screen. The hopeless movie-romantic in me would love to cling on the arm of a love rather than an armrest. Bonus location points for the restaurant above the Brattle Theater, a real Rick's Café. Louis, that's one hell of a way to start a beautiful friendship.
Somerville Theater and the Sci Fi Marathon: Geek out with the best of Boston's fan boys in possibly one of the most demanding marathons in the area. Sure, the Coolidge sports 12 hour horror marathons and burlesque marathons, but the Somerville Theater boasts a 24 hour Science Movie marathon with a 36 year history. But the birthplace of this annual event has not always been in the heart of Davis Square. In fact, it was in an independent movie theater so great that it called itself the Orson Welles Cinema. Sadly, as the namesake actor, it sadly fell victim to financial problems and the 'thon, as die-hards call it, became a floating marathon until crash landing at its new home. Their website advises to "bring deodorant and mouth wash" but I'd recommend a bit of caffeinated something and a good wingman to save your seat (and serve as a pillow in case of emergency). Be prepared this February!
Harvard Square Theater and The Rocky Horror Picture Show: Halloween lives year round on Saturdays in this theater. But don't let the first-run pictures on the marquee fool you: Harvard Square is home to the Full Body Cast, a performing troupe dedicating to acting alongside one of the most popular of all cult films, The Rocky Horror Picture Show. However fun and fancy free this crew looks, real followers know there are lines to be shouted, toast to be thrown, and newspapers to cover your head. If you're a Rocky Horror virgin, prepare yourself with some online tips lest you would like to go onstage for the cast to "pop your cherry."