You may have seen the one-page, front-to-back cut-and-paste local music newsletter at the recently closed Allston Cafe (R.I.P.) or other coffee shops and art spaces in the Boston Area. Each month, 22-year-old Samuel Potrykus of the Needy Visions puts out the Boston Counter Cultural Compass, a one-stop resource for the coolest happenings around Boston, including underground house shows, record store events and artisans markets. The Compass also features fun facts and tidbits about local bands and radio stations. On Wednesday, December 8 at 8:30 p.m., Boston University's student radio station WTBU will join together with Allston venue the Great Scott to present the Compass Benefit Show. Admission costs $5-10, a sliding scale donation, and raises money for the newsletter's production and distribution.
WTBU Music Directors Ali Donohue (COM '12) and Liz Pelly (COM '11) coordinated the event. They're in charge of booking concerts each semester to promote the station and support local music.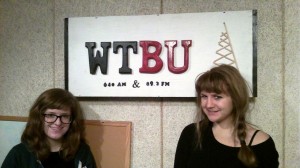 The station started doing co-sponsorships with the Great Scott three semesters ago because they wanted to start booking off-campus events. The Great Scott will book a show, and WTBU can ask them if they want a co-sponsor for it. WTBU helps promote the show, and in exchange, they can hang up their "WTBU presents…" banner at the show. Last semester, the Great Scott started to allow WTBU to rent out the venue and book their own showcases.
This past spring, WTBU presented a five-band showcase of local bands, including DOM, Quilt, Golden Girls, Lord Jeff and Turtle Ambulance. Donohue and Pelly decided that for their next show, instead of just booking another showcase, they would host a benefit show. The station has a strong friendship with Potrykus. Potrykus played with Lord Jeff in the showcase. In addition, WTBU plays his band the Needy Visions on Left of the Dial, WTBU's underground local show that airs Monday through Friday, 4-6 p.m. The program is produced by Donohue and Pelly and features a rotation of local music. Potrykus has also guest dj-ed on the show.
"He really likes what we do here, and we really like what he does with the Compass, so it just made sense," Donohue said.
"It's been a pretty instrumental tool in the local music community over the past ten months connecting different groups of people. The kind of shows that are listed on there are underground house shows that may be hard for people to find out about otherwise," Pelly added.
"The Compass is cool because it literally guides people through the underground," Donohue said.
Potrykus moved to Boston three years ago. He acknowledged his brother, the lead singer of the local band Girlfriends, for getting him into the Boston local music scene. A history major at U Mass Amherst, Potrykus got the idea for the Compass from the Mojo Navigator, a zine from late 60s based out of San Francisco that wrote about bands coming out of the bay area like the Grateful Dead. The first issue of the Compass came out this past March.
"There was no concise way for people to hear about shows in Boston, nothing really community-based. That's changed now. There are different genres we're connecting as a counter culture, a community," Potrykus said.
Last month, Potrykus launched the Boston Counter Cultural Compass website to get the word out about shows and events that couldn't fit on the flier. Kate Lee, who lives at the White Haus, a Jamaica Plain house show venue, designed the website.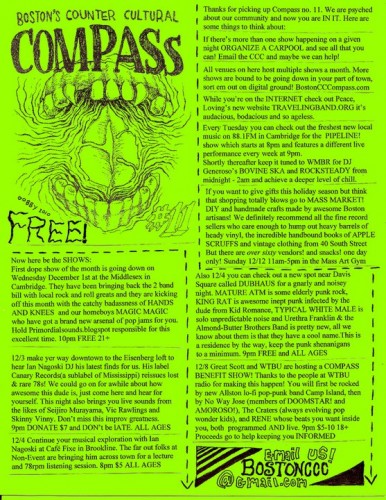 Potrykus said he was flattered when WTBU presented the idea of a benefit show to him. "I've been doing it completely out of my own pocket since it started," Potrykus said. "Anything is helpful, but of course, the more people at this thing, the more it shows that people are out there who care about it."
"There's nothing more important for the students at BU than to have fun. The one thing that's most important for kids is to know where they can go to let loose and have fun and see art, music and culture and meet new people," Potrykus said.
Although Left of the Dial has been around for years as the music director's show at WTBU, it has transformed substantially since Pelly signed on as music director two years ago. The show used to be once a week and featured a limited number of rotation songs. After a couple semesters, WTBU increased the show's programming to twice a week. Last semester, the station expanded Left of the Dial to five days a week and made the music directors the producers of the show. Each show featured a different host, and for a time, WTBU would broadcast once a week from lives shows at BU Central.
"Left of the Dial over the past year has really expanded to be more than the once-a-week show it used to be, which I think is really indicative about how involved we become in the local music community," Pelly said.
"We realized that what really makes our program unique is that we can play local and underground bands, whereas a lot of college radio stations can't or don't. I see this show as a culmination of the change of the aesthetic/direction of our rotation over the past year or so," Pelly said. "We've been focusing on local and underground music a lot more. It makes sense that we'd eventually start doing live shows that were all local bands and helping out something like the Compass, which is a tool in the local community."
The station was nominated for the 'Biggest Champion of the Local Scene' by College Music Journal Award in October.
"It's cool to be recognized for something that we've been working really hard at," Donohue said. "The point isn't about rehashing what other people think is cool. We're trying to find things that are cool and local in that organic way, the way people are like 'I only eat local'. Well, you should listen local too. Support what's right in your backyard."
And it's not just about the young people in the local music community. It's about the people who have been around here for years, too, according to Potrykus. "There's all this history. I consider myself lucky to be in touch with the people who have been around here for a long time, like Brendon Wood and Jonah Rapino," Portrykus said. "It makes it feel a lot more special that people in their 30s are talking about bands that are in their 20s doing their thing in Boston. We have the blessing of those that came before us in the Boston music scene."
Donohue added, "It's a much more gratifying experience to see a band up close and personal in a basement or a small bar and really get to hear their music and experience it rather than paying upwards of 20 bucks to go to some venue and hear some glossed-over touring band."
"I totally see supporting local bands as supporting the local economy and supporting the people who care about what's around them and who are going to turn around and give back to the community," Pelly said. "It's cool to see a band who afterward will be at their merch table, and you can talk to them and make a face-to-face connection and buy their CD directly from them, versus some band who's just going to play and then jump off-stage, run to their van and peace out, just get their check and go to their next stop on the tour."
"The music community has likewise embraced us. We like to support the bands and have them come on air, and then they tell people to listen to our radio shows, so it's been a good back-and-forth relationship," Donohue said.
So catch your favorite university radio station and Boston's best in local music Wednesday night, because "it's cheap, it's a good cause and you probably have nothing better to do on a Wednesday night," in the words of Donohue.
"Things like Left of the Dial, the Compass and the local music community are more important and relevant to things that people probably already believe in and value than they realize. A lot of people would probably really enjoy going to these local shows and they just need to give it a chance," Pelly said. "If people found out more about Left of the Dial, the Compass and these local shows that are totally open invites happening every night of the week, they'd realize that there's this really awesome community that they can embrace and be a part of if they want to. Hopefully the show exposes more people to that community."
If you are a part of or know about any local bands that are looking for an outlet, feel free to contact Donohue and Pelly at music@wtburadio.org.
With the help of Potrykus, the Quad put together short-and-sweet profiles of the bands playing at the Compass Benefit Show to give you an idea of what to expect.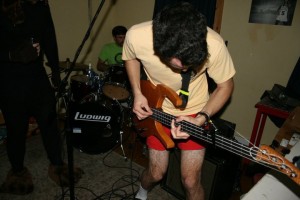 Camp Island
Neil Patch and Daniel Radin of The Novel Ideas

Sounds like: catchy lo-fi pop-punk,  Neutral Milk Hotel meets No Age
Latest release: Your Cold Blood (Unsigned)
Listen: http://campisland.bandcamp.com/
Follow them on Facebook.
No Way Jose
Members of DOOMSTAR! and AMOROSO!
Sounds like: super-charged psychedelic rock 'n roll, The White Stripes on DMT
The Craters
Jared Arnold and Wes Kaplan
Sounds like: ambient experimental chill-pop, ….And You Will Know Us By the Trail of the Dead meets Mobius Band and Soltero
Latest release: Teenage High School (Breakfast of Champs Records)
Listen: http://www.myspace.com/thecraters
Follow them on Facebook.
Rene
Gabriel Rene Sugrue a.k.a. Gobby

Sounds like: nasty acid-hip-hop dance beats with live drums, 'Lil Wayne meets the all-girl Japanese rock band Perfume