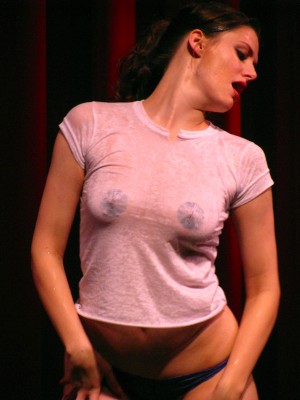 The weather outside last night was chilly, but inside the Coolidge Corner Theatre it was hot, thanks to the lovely ladies and gentlemen of Boston's First Annual Burlesque Marathon. Helmed by the Boston Babydolls, nearly 100 acts performed over 8 hours in all sorts of tantalizing stripteases. 168 bare breasts, one piece of cake and several Red Bulls later, Quad staff Monica Castillo, Nicole Cousins, Lauren Hockenson and special guest writer Alicia Hemenway walked away changed women. Hour by scandalous hour, read as these burlesque virgins hoot and holler their way through a sensational overload of lingerie, flesh, and McGyver mullets. All photos by Monica Castillo.
Monica, 12-1 a.m.:
We filed in from the cold and claimed prime seats in a center aisle. To my left, there's a guy dressed as Prince. To my right, there's a guy wearing a sailor hat, and behind me is a woman dressed as a soccer mom. Our stage hands look like they escaped from Ozzfest. The anticipation is mounting as nearly twenty minutes pass. Finally, our main host Ol' Scratch took the stage to introduce his co-hosts, Miss von Danger, Eva Destruction, and Lady Miss Iris. They give a tutorial on how to encourage the dancers by hooting and hollering. The biggest honor is to hiss like a kettle that's gotten too hot. Let the teasing begin! A trio christened the Dirty Dishes launched into a painfully slow "Apocalyptic Tea Party" that ended with the girls tearing each others' clothes off and sending the first of many wardrobe malfunctions out to the audience. Dot Mitzvah followed in a traditional balloon dance that popped with bursts of glitter. Betty Blaize managed to elicit a "Let 'em breathe!" call from the audience when taking her top off, and Miss Bettysioux Tailor wowed the crowd with a song and strip number that ended in a sea of delighted hissing. I can't wait to see what's next.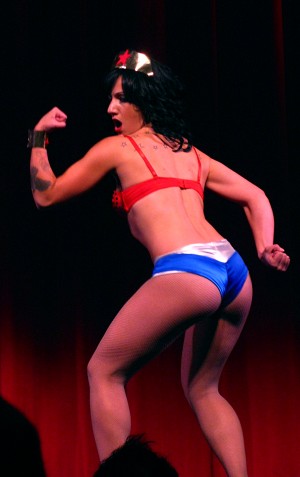 Lauren, 1-2 a.m.:
Things get into full swing as more ladies take to the stage and strut their stuff. Kitty Katastrophe starts the hour with a Rockabilly-laced cell block number that ends in striped pasties. Allston local Devorah Darling keeps up the classic streak while gyrating to western classic "The Wanderer," and I can't help but secretly hope that she goes to BU. All nerdy men's fantasies are complete when Serendipity Galore bursts out in a Wonder Woman costume, and by the end Miss Iris exclaims, "There's an actual eighth-inch of glitter on the floor!"  But the best highlight came at the end of the hour, when Candy Sprinkles, dressed as teen sleuth Nancy Drew, finds clues to the murder she's trying to solve all over her body. A flash of pasties with the words "Oh No!" emblazoned on them are revealed as the murderous Nancy is taken down by the fuzz. I don't know how I've never seen burlesque, because it basically incorporates everything I love. Give me more!
Nicole, 2-3 a.m.:
I don't know what I was expecting from this whole experience but lord, did I learn a whole lot about pasties. One of the first acts of my block was Vita Lightly, aka super-tall Sarah from America's Next Top Model cycle nine, who beat around a cane on the stage to "I Wanna Be Like You" from The Jungle Book. Lauren was terribly excited about Yakuza Lil's not-fitted jeans, to which she yelled, "Mom jeans! We love the mom jeans!"  There was also the booty-clap of the gods thanks to Miss Mala Propros.  And oh my god, Paige Turner is my favorite stage name ever. Her story was that she's a librarian. I have no idea if that's true or not, but I'll take it. Plus, synchronized tassel rotating will also never cease to amaze me. Three hours in, we cracked our Red Bulls open at 2:30 and hoped for the best.
Alicia, 3-4 a.m.:
It's 3 a.m. and there's titties, titties, titties. The night started with traditional burlesque and has now turned into anything and everything you could, but never would, want to imagine. Holy shit, they're playing Gilligan's Island with Kitty Katastrophe as Mary Ann. Legs L'Amour is Rosie the Riveter only to reveal a patriotic feather boa bush and American flag pasties. Beau Blush danced to "Jump in The Line" even more enthusiastically than Winona Ryder at the end of Beetlejuice. Wow, a fake mustachioed male performed boylesque! The emcee Eva Destruction describes, "Boylesque is when a sexy, sexy man does sexy, sexy strip tease and some men in the audience look confused. You know why you look confused? Because you liked it." First WTF moment: "Little Pussy," which involved a giant version of a dance outfit I had when I was three, a stuffed leopard, a song of the same name which I need to download immediately, and a giant plush vulva along with throwing of bread to represent yeast. Scratch's pasties birthday cake on top of a burlesque wearing pasties. We get cake too. At this point, I am purely running on Red Bull, cake, and boobies.
Monica, 4-5 a.m.:
We take a pause from the jangling tassels to celebrate host Scratch's birthday. It's 4 a.m., and I've worked through a medium soda, a small pop corn, a box of Snow Caps, a small box of Nerds, and now a slice of cake off of a burlesque dancer's chest. My night is bound to crash from either diabetes or lack of sleep. My morning trek to Friday's Harry Potter release is wearing on me, but I have Serendipity Galore's MacGyver routine to keep my eyes open for now. It's been awhile since I've heard the Runaways' song "Cherry Bomb" used so perfectly. The Dirty Dishes returned to mess with us by using Dumbo's "Pink Elephants on Parade" as a striptease routine with parasols. Vita Lightly, the ANTM contestant, performed possibly the most professional wet t-shirt routine outside of a Cancun bar. Scratch congratulated her by remarking that "Tyra's an idiot!" As you can see from the photos, I really got into capturing the performers in all their glory. Martha Stewart's look-a-like, Yakuza Lil had an excellent routine brimming with rose pasties and pills. Miss Bettysioux Tailor's pirate in booty shorts strutted the stage and I had a great memory of Gasparilla's adult parade in my hometown. Patches, boobs, and gold doubloons! But I must stay awake…must fight…boobs…pasties…tassels….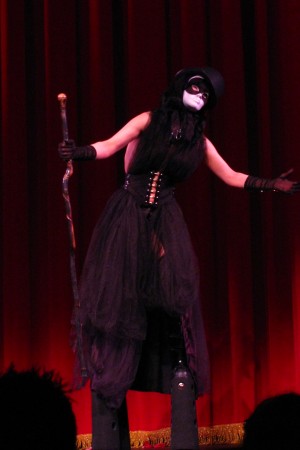 Lauren, 5-6 a.m:
It's officially the morning, exhaustion has kicked in, and there's a man on stage writhing around like a cat. Frankie 5 Fingers, the man in question, coughs up a hairball and throws it into the audience before revealing his own pasties. I should have known that this hour would be trouble. Then, Vicki Licorice appears onstage to remove various weaponry from seemingly from nowhere, and I get lulled into a sense that I can ride easily through to the pastry brunch awaiting me in a few hours. Boy, was I wrong. Lily le Vamp appears wearing gigantic platform boots and two white masks to take me to a terrible place. I feel thrown into a bad acid trip, and I swear the walls are melting. Nikki LeVillain pours absinthe all over her bare chest, and I don't know whether I'm on earth anymore. Then, the Slaughterhouse Sweethearts summon Cthulhu, and that's when I knew I was in hell. I don't know how much more I can take, because I think my brain has broken from the sheer, delicious insanity of burlesque.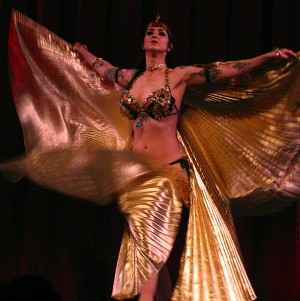 Nicole, 6-7 a.m.:
I have delved into madness. MADNESS. I have been watching this for six hours. Nikki LeVillain poured absinthe over her breasts during Lauren's segment, and my budding lady-crush has left this to ruminate in my brain…as did the smell at absinthe at 5:20 in the morning. There are smarties on pasties now and all of the glitter is making me feel like I'm on acid. Blitzen von Schtupp is trying to hide under an Evil Guy Fawkes mask and then Dot Mitzvah is pretending to be smashed. This is oddly appropriate. Monica is passed out. Lauren is fading, hollering, and falling back asleep. A dancer has pulled her thong from her person and I am unfazed. I have arrived. And Nikki LeVillain has just poured hot candle wax on herself. Why is she so hot?
Alicia, 7-8 a.m.:
It's the last hour of the night and I've seen more tits than in my entire life combined. A man in the crowd shouted, "Don't do that!" to the awesomely named Ophelia Hiney and Rosy Rimjob as their number involved putting clothes back on. Nicole just realized that one of the performers looks like her mother. Betty Blaize just ruined Christmas for me with her alien hand syndrome devil puppet that did a duet with her to "Baby, It's Cold Outside," but she remains the queen of the tassels. Then, Bettysioux Tailor made Thanksgiving even better with Turkey pasties, cornucopias, and food hoarding problems. They literally saved the weirdest shit for the last hour as a toilet is pulled onstage for one of the dancers to take a pretend crap to clog the toilet with glitter that is later thrown into the crowd. Night is ended with the main dancers Miss Mina and Betty Blaize. Sadly, our appetite for pastries with girls in pasties is gone by 8 a.m. and we leave the theater to enter a world where wearing pasties isn't the norm.
Curious about burlesque? Check out the Boston Babydolls for their show schedule, and read on to see a slide show with more lovely ladies baring all.