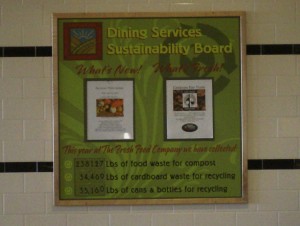 Over the past few months, Boston University has clearly been making a sincere effort to be more "green."  The most noticeable change happened at the GSU: the start of the semester brought four–count 'em– four bins in which to sort GSU waste, complete with student workers in visors to direct confused diners where to put their compost, trash, recycling and dishes.
The sustainability efforts have spread to more than just the GSU, however. Many "retail" dining establishments on campus have switched from the former cardboard and plastic products to compostable and recyclable products, and even Late Nite has switched to using these compostable products to help decrease waste.
The changes are great, but how big of an improvement are they?  The annual college sustainability report card was released this month, and a review of the BU campus' initiatives proved that progress is being made.  In 2007, BU was given the embarrassing and horrifyingly low grade of a 'D'.  However, over the last three years, steady improvements have been made to bring it up.  In 2008, BU was given a 'C', a 'B-' in 2009, and this year, a 'B'.  Clearly a 'B' is much better than the lowly 'D' we got just three shorts years ago and progress is being made, so what is going on to help make BU a more eco-friendly and sustainable environment?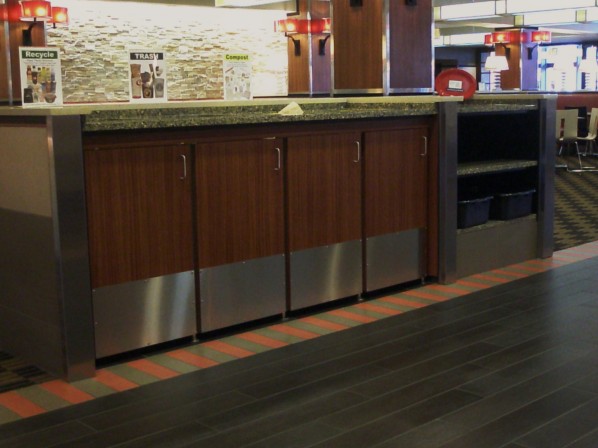 I spoke to the sustainability coordinator for dining services at BU, Sabrina Harper, to get the behind-the-scenes scoop.  Harper said that right now the initiative is focusing on waste diversion, education, and community outreach.  She is working on reducing food waste through pre-consumer compost and moving toward more energy efficient practices at all the dining halls, not just the GSU.  So far, the results have been promising. Ms. Harper estimated that there has been a two-thirds reduction in the amount of trash generated at the GSU alone.  But what happens to all of the compost that's been generated on campus?  Ms. Harper told me it's being taken to local composting sites in Hamilton and Marlborough, MA.  At these sites, the compostable materials are turned into mulch which is being used locally, including at the Victory Gardens at Fenway.
In addition to working with composting, BU has made a strong push to use locally produced products, such as dairy, fruits and vegetables.  The milk used in the dining halls comes from Hood and other dairy products come from Stonyfield and other local farms.  Foods like apples, tomatoes, mushrooms, bread, and butter are also locally produced and grown.  This is reflected in the 'Food and Recycling' category on the sustainability report card, in which BU received an 'A' for increased use of locally grown foods and introducing composting to our dining facilities.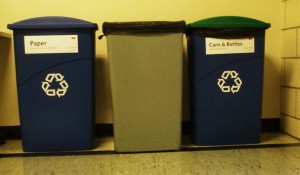 Other sustainable practices to be implemented in the coming year include a decrease in water and energy in the dining halls and increased composting in new locations around campus.  The Law school and Olecito will introduce composting, and on campus catering hopes to have zero waste in the near future.  I was also surprised to learn that leftover food from the GSU is donated each week to local kitchens.  And the oil generated from Raising Cane's is all recycled to create biodiesel, so you can feel better about eating those chicken fingers.
So what else can you do to help increase sustainability on campus?  Recycle paper and plastic in the appropriate bins located in many buildings around campus, including the dorms.  Bring a reusable mug and water bottle with you; instead of buying a bottle or using a cardboard cup, bring your own.  You can even save $.25 when you bring your mug to select places on campus.  Try to take only what you're going to eat when you're in the dining hall.  For more tips, check out BU Sustainability's website and look for updates about new initiatives coming soon.