This past weekend marked the last chance for people to crawl out of their apartments on Saturday morning for a glorious hangover breakfast at Allston Cafe on the corner of Harvard Ave and Brighton Ave. It's final hours of business were Saturday, November 13th 8am-3PM.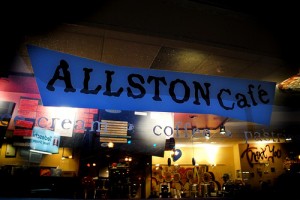 I was there, I was hungover, and I was not alone. Unfortunately, Allston Cafe, although always busy, can no longer afford to lease this space after a more than 50% hike in their rent. They used to share the space with Herrell's, an ice cream shop, but Allston Cafe separated from too-commercial Herrell's about a year and a half ago. Since then, they have been in negotiations with their landlord on how to account for the rest of the space. The landlord came down saying that Allston Cafe had to pay for the entire space, an impossibility for the independent, locally-run and locally-loved coffee shop. According to the Globe, owner Derek Brown hopes to re-open in the spring, certainly a good reason for not going abroad spring semester.
Saturday at Allston Cafe was bustling and bittersweet. In a surreal moment, a barista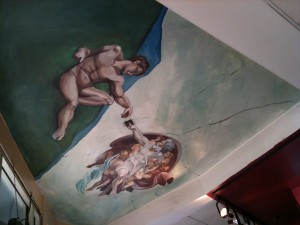 offered up markers to draw on walls usually coveted by local artists. Lines including "Viva Allston Cafe," "you will be missed," "exploitation," and "breakfast" covered the walls, a clear testament to Allston Cafe's eclectic, alternative atmosphere and customers. Allston Cafe is not just a coffee shop; it is (literally) a cornerstone of Allston. And let's be serious, finding a place that serves breakfast all day long is not easy. People hang out there, people work there, people do work there,  people meet there, and people escape there. I refuse to discuss Allston Cafe in the past tense.
For me, Allston Cafe is the epitome of summer in Allston: balmy city nights, concrete-hot days with dark roast coffee to wake me up, 15 mile bike adventures, vegan breakfast burritos, the best pancakes ever, the best breakfast sandwiches in Allston, and late night swimming in the Charles River. For others, it is an essential stop every morning. So, Allston Cafe, I hope to see you as soon as the ground thaws come springtime, until then, breakfast (aka my life) will not be the same.