It felt like the longest I had ever waited for anything in my life. I tried distracting myself to make time go quicker. Finally I counted down the last thirty seconds, and my microwave dinner was ready.
I then settled in front of the TV for the last five hours of the nine month countdown to Conan O'Brien's return to television.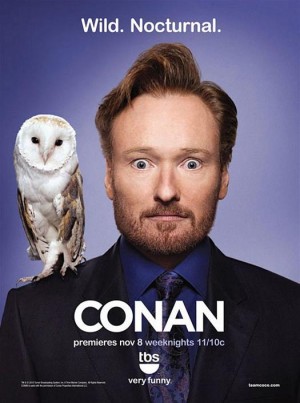 Conan premiered Monday night at 11pm on CoCo & Co.'s new home network, TBS. O'Brien managed to keep his entire Tonight Show staff employed and kept them all on board for the new gig, except for Max Weinberg, (weep), who chose to begin touring with his new band, the Max Weinberg Big Band.
The first episode opened with a video reminiscent of his opening video as host at the 58th Annual Emmy Awards, as well as his opening video on his "Legally Prohibited From Being Funny on Television Tour" (recording from audience can be found here). In what certainly must have been a pretty accurate recap of O'Briens last few months, the cold open featured a Godfather-esque spoof of his last day at NBC, including a slow motion shoot-out.
CoCo took the opportunity to take a few more stabs at NBC during his opening monologue, where sidekick Andy Richter supported it with witty commentary. After some fun jests, he returned to the familiar self-deprecation we all know and love, making the best of his new home on basic cable. And always one to enjoy his fun new toys, O'Brien highlighted the wonderful ocean view backdrop, equipped with a remote-controlled moon.
Though the idea of O'Brien no longer on a broadcast network is completely new, the format of the show is very similar to his previous years on late night television. Honestly, that is perfectly okay. The man's natural ability to make any situation hilarious is enough to carry any kind of show. Hell, he could have been sitting alone in a completely white room making wisecracks and I still would have tuned in for the entire hour.
There are, of course, a few minor changes. In typical tongue-in-cheek fashion, the band has been renamed the Basic Cable Band. O'Brien also managed to turn the disappearance of a barrier between him and the audience into a hilarious ongoing joke throughout the monologue, completely creeping out that one girl he kept harassing (she loved it).
Guests on the first episode included O'Brien's friend Seth Rogen, Lea Michele from Glee (don't get me started), and perhaps one of O'Brien's closest celebrity pals, Jack White of the White Stripes, who joined Conan on stage to perform a cover of Eddie Cochran's "Twenty Flight Rock." Always the funny man, O'Brien is the frustrated rock-star type who was never cool enough to join the band. But after getting a taste of performing live music during his summer tour, it seems he isn't ready to give it up yet. Rock on, CoCo.
The rest of the week will include guests such as Tom Hanks, Jon Hamm, Michael Cera, Julie Bowen, and hopefully more surprise appearances by the Masturbating Bear.
If you still can't get enough CoCo, join me over at TeamCoCo.com for blogs, web videos, full episodes, and much more. Welcome back, Conan. We've missed you.