After dozens of end of the semester depressing phone calls to the parents lamenting our grades and crying in vain, 'It's because of grade deflation, Mom.' Gradeinflation.com reported in their "A" The Hard Way, 2010: GradeInflation.com's Sweet Sixteen of Tough Graders" that Boston University is the third toughest grader on the east coast. Rensselaer Polytechnic Institute scored first place, but I mean, RPI students live in the middle of nowhere and also suffer from a worse gender ratio than BU, at 70% male to 30% female. Second on the list is Princeton, but in an effort to reverse grade inflation, they initiated a grade deflation plan in the last few years. Let's be serious, Harvard students basically just have to be Harvard students to get their A's.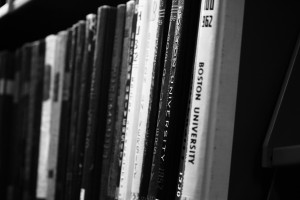 However, BU's grade deflation efforts have been pervasive for years; a 2006 NYTimes article reports that the BU administration pressures professors to make their students' grades to conform to a curve. On the first day of my biochemistry class this semester, my professor said that in past years the university told him that too many people in his class received A's, and that the averages for our class, would be lower. On that crisp September day, that dose of irreconcilable frustration was not well met by my peers. Two years ago, the Biology department fell under probation for failing 40% of the BI203 class. It was an open book class.
I'm not going on this rant to try to justify my less-than-perfect GPA, to complain about how I have to study more than other east coast college students. I just think that people should know: parents, students, grad schools.
You know, my mother never believes me when I try to explain that professors in the past have told me that I've had an A- in their classes, but for some reason when I click on my Student Link profile, I only see…