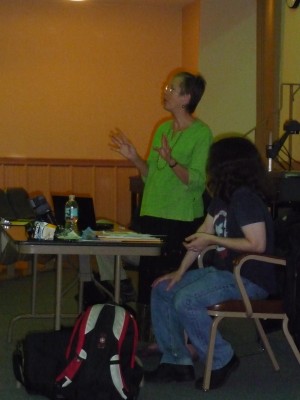 "Apartheid is two things – apart and hate," said Dr. Barbara Brown in front of an audience at Morse Auditorium on Tuesday night.
Brown has been the Director of the Outreach Program at the African Studies Center at Boston University since 1990. She, along with Jason Pramas, the editor and publisher of the weekly news publication Open Media and Suren Moodliar, a coordinator of Massachusetts Global Action, held a talk about the movement at BU to end South African apartheid. The event, "Ending Apartheid: A Legacy of Struggle at B.U.", was hosted by B.U. Students for Justice in Palestine.
Pramas, who was active member of the South African Task Force at BU, (which he describes as "fighting for justice under Silber's iron fist," when he attended from 1984-1986), provided a chronological timeline of events laced in with his own experiences and many "f*ck yous" to various BU administrations. In 1979, B.U. had approximately $6 million in common stock in companies active in South Africa. Pramas and Brown, along with other students and faculty were committed to ending the university's support to the Apartheid Regime. The South African Task Force held demonstrations at Marsh Plaza, vigils at then President John Silber's office, got 2000 students to sign a petition, set up shantytowns at Marsh Plaza, held hunger strikes, and were even arrested along the way. However, the main obstacle was to convince the board of trustees.
"It was lots and lots of tiring work, but friendships and even successful marriages were made along the way," said Brown.
Pramas was a was assistant to the assistant editor of the Daily Free Press, part of the COM Government, and the College of Communication Senator for the Student Union. Pramas said he led BU Student Union senators to hold a university election for the divestment of university funds from the South African economy in 1985.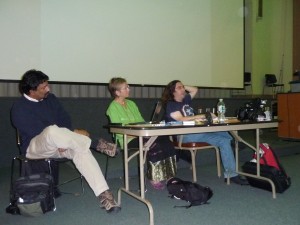 "I was subsequently removed from the Student Union senate," Pramas said.
Eventually, he was removed from all positions. Later, Pramas was suspended and then left BU in 1986.
Despite all this, the activists finally won when, in collaboration with  a group of other anti-apartheid activists from Massachusetts called "Massachusetts Divest," got BU, along with other Massachusetts universities, to divest their pension holdings in South Africa.
"My daughter was six months old at the time, and when we found out we won, she rolled over for the first time," said Brown.
MassDivest was featured on the front page of the South African Press. Nelson Mandela visited Boston in 1990 to honor their efforts.
Students, many who are active in the Students for Justice in Palestine organization, also posed questions to the speakers about the differences in the movements against apartheid in South Africa and now in Israel.
"What we're doing now, we would have probably been stopped for doing 20 years ago," said Pramas.
Moodliar, a former member of the African National Congress, told the audience that they would be able to tell when their anti-apartheid activism was working.
"When a government can't perform its duties because of international dissent, that's a good time to move against it," he said.
Brown also had optimistic advice for student activists.
"They'll tell you that you won't win, but it's all lies," she said. "I know it's all lies because we won."