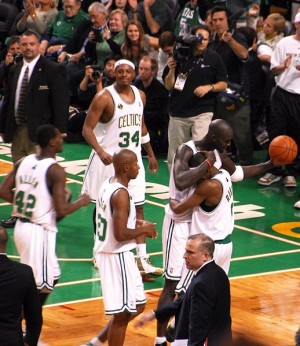 We all watched the Boston Celtics make it to the NBA finals this past May and then fail to live up to our high expectations. They couldn't quite make it over the hump, suffering the embarrassing loss of their 18th NBA title to the Los Angeles Lakers. I think the question on most of our minds, with the additions to the team of monolith Shaq and Jermaine O'Neal,  is: will they be able to pull it off this year?
The troublesome aspect of the Celtics' game that sticks out to me is their age. Four out of their five expected starters are veterans: Ray Allen, Paul Pierce, Kevin Garnett, and, the recent addition, Shaquille O'Neal. There is no question that these old-school players are not as fresh and quick as they used to be; there comes a time when we need to ask how much gas they have left in their collective tank? Clearly, the Miami Heat present a huge obstacle, having recently acquired a triple threat: Dwayne Wade, Chris Bosh, and Lebron James, all three being young stars. However, the age factor can also be a virtue in the Celtics' case. They have the experience to practically be able to coach themselves defensively, and their offensive system is tried and true. Plus, they've seen it all and have nothing to fear. They've already acquired the skills, whereas Wade, Bosh, and James haven't quite had the time to hone theirs yet.
Rajon Rondo poses a definite threat at point guard because but his defense is absolutely top notch  compared to his peers. Center Kendrick Perkins' knee injury dealt a serious punch to the Celtics' game during the playoffs, and he underwent surgery on a torn ACL over the summer. Adding both Shaq and Jermaine O'Neal to the lineup, however, has softened that blow, and will allow more rest for veteran Kevin Garnett, whose competitiveness should greatly improve as a result.
Nate Robinson, who showed great promise at the end of last season, should also put in clutch performances at times this year. Consistency is his main issue, though, and he will need to contribute on a regular basis in order for the Celtics to pose any serious threat in the league.
The bottom line is, the Celtics are definitely going to compete this year. They have maintained enough of the meat of their lineup while also acquiring more depth with the additions of Shaquille O'Neal and Jermaine O'Neal that they will be able to play at a consistently high level. But will it be enough? Stay tuned for one of the most exciting NBA seasons yet.