On Thursday September 30th, as part of the Communication Research Colliquium Series, Deborah Jaramillo, Ph.D., assistant professor in the Department of Film and Television, presented her research on "the traumatized suburbanite and the violent narcotraficante in Breaking Bad and Weeds."
Fans of Weeds will recognize the title of Jaramillo's presentation, "Dead Mexican!," as a line screamed by fan favorite Celia Hodes after she discovers a, well, dead Mexican, in soccer-mom/weed-dealer Nancy Botwin's garage.
As a firm believer in the fact that there is no shame in watching a whole lot of television (Jaramillo tries to average 20-30 hours a week, though admittedly she's been slacking lately, "'cause a girl's gotta sleep!"), one who watches a lot of television will begin to notice some patterns.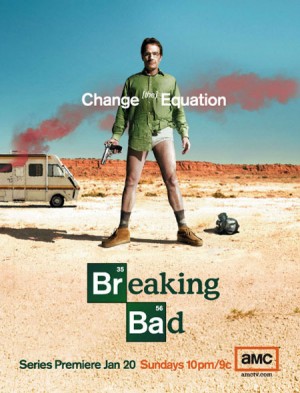 Jaramillo has looked specifically at a pattern developing in shows such as Weeds and Breaking Bad: TV programs which are set on or near the Mexican border.
"There is an interesting development in cable series," says Jaramillo, "with the character of the Mexican drug dealer and the treatment of the suburbanite character."
Weeds depicts the classic suburban-housewife-turned-suburban-weed-dealer, Nancy Botwin. After her husband's death, Nancy turns to illegal means of making money to support herself and her two sons.
Breaking Bad is the story of Walter White, a suburban, high school chemistry teacher living with his family in Albuquerque, New Mexico, who receives a diagnosis for terminal lung cancer. In order to make money for his family before he dies, Walter uses his skills in chemistry to cook the purest crystal meth New Mexico has ever seen.
Jaramillo explains that "organized illegal activity opens space for foreigners on TV…as criminals."
The cop formula on recent television took Mexican criminals from broadcast to cable. Then along came The Sopranos, a show that allowed the bad guy to become the loved protagonist. Thus started the trend of the suburbanite becoming the criminal.
"Breaking Bad and Weeds are about suburbanites who enter the drug trade," says Jaramillo, "extending the paradigm of The Sopranos."
Jaramillo went on to explain the parallels that can be drawn between the two shows: both involve threat and drug distribution on the Mexican border, both criminal suburbanites suffered some kind of trauma to make them turn to drug dealing, both have tangential narratives occupied by Latino or African American drug dealers, who get caught, and now have to adapt to white suburbanites entering their trade. In other words, white characters are stealing foreign characters' jobs.
"Breaking Bad and Weeds reveal a slippage," Jaramillo says. The slippage lies in "how Mexican characters exist within specific TV texts and how Mexican characters have historically been positioned on television," says Jaramillo.
This shifting of narrative paradigms is tied to this specific genre, "A complex vision of violence is enabled," says Jaramillo, "a vision of violence that recalls the paradigms of Mexican narcocorridos."
For those unfamiliar (a whole lot of you, I'm guessing), corridos are folk songs that are a narrative/news hybrid. "They usually have 'epic' themes," says Jaramillo. A popular theme was the Mexicans defense of their rights against injustices perpetrated by Anglos in the 19th and early 20th centuries.
Narcocorridos, however, "chronicle the exploits of drug dealers," Jaramillo explains.
Breaking Bad puts Walter into the role narcos usually play. In the episode "Negro y Azul," Breaking Bad pays homage to the legend of narcocorridos by opening the episode with a music video by Los Cuates de Sinaloa, which chronicles the exploits of Walter's drug-dealing alter ego, "Heisenberg." The music video has subtitles and gives an authentic look at what narcocorridos are about. I recommend checking it out.
However, unlike Walter in Breaking Bad, in which Mexico comes to the protagonist, on Weeds, Nancy ventures into Mexican territory. In fact, Nancy's latest romance with corrupt politician Esteban Reyes is based on actual former mayor of Tijuana, Jorge Hank Rhon. On the show, Mayor Reyes gets his money from drug and human trafficking.
"Like narcocorridos, Weeds is rooting narratives in true news stories," says Jaramillo.
There is certainly plenty to discuss and argue on the subject, and Jaramillo has done the research to prove it. If you are interested in future presentations of the Communication Research Colliquium Series, please visit their website.