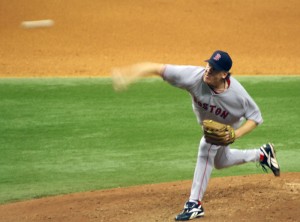 For those who watched the ESPN 30 for 30 episode "Four Days in October" this past Tuesday, it probably brought a few nostalgic tears to the eyes of anyone who has ever been a fan of the Boston Red Sox. The 51-minute documentary recapped the incredible 2004 season, in which the Sox came back from a 3 games to none deficit in the World Series to their arch-rivals, the New York Yankees, winning 4 consecutive games for a miraculous comeback pennant victory. To top it all off, Curt Schilling had given an amazing effort in Game 6 of the ACLS; he managed to give up only one run in seven innings while pitching on a dislocated ankle tendon held down by three sutures. It will forever be immortalized as "The Bloody Sock Game."
Similarly, I'm guessing more than one tear was shed last Sunday at Fenway Park as the 2010 season drew to a close for the Sox; it was yet another year that did not end in a playoff appearance. The Sox went down this time with an 89-73 record, good enough only to win them 3rd place in AL East and 7 games out of the Series. Since the team batting average on the season was .248 — pretty mediocre — and their OPS ("on-base plus slugging," calculated by adding the hitters' on-base percentage to their slugging percentage) was .790 — pretty freakin' awesome — the disappointment of the 2010 season can probably be attributed to the poor effort by the pitching staff, and their relievers, in particular. The team ERA was .419 this season, 9th overall in the league, while the relief ERA was .424. And their save percentage? A dreadful .670, 13th in the league. I'll tell you right now, this won't win games. One of their most trusted relievers, Jonathan Papelbon, blew saves all season, most notably to the Yankees and the Colorado Rockies.
Admittedly, injuries also plagued the team and were most likely responsible for much of the team's downfall. In the span of three days, during a road trip in San Francisco, Dustin Pedroia broke his foot, Clay Bucholz strained a hamstring and missed three of his next starts, and Martinez broke his thumb, putting him down for a month.  Later, veteran Varitek broke his foot , Kevin Youkilis tore a muscle in his thumb, and Jacoby Ellsbury  never fully was able to come back from his side and rib injuries. No wonder the team was struggling. It's a miracle they even made a pass at Series play.
Only time will tell if the offseason will help heal some injuries and inspire brilliance in those Sox players who have recently dimmed. See you next s4pring!