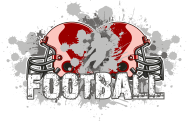 This season is shaping up to be an exciting one in college football.
In the final year that the Big 12 conference will actually have twelve teams (Nebraska and Colorado will soon be departing for other conferences), the South Division is the one to watch. Texas Tech and new coach Tommy Tuberville are incorporating a more traditional passing game, which will probably mean another postseason run for the Red Raiders. Baylor's start quarterback Robert Griffin is one again healthy, and will be leading his team as a legitimate threat to return to bowl action for the first time in over 15 years. Texas A&M has a strong offense this year that is sure to rake in the touchdowns, and rival University of Texas, always one of the most talented teams in the country, fields an intimidating defense. Sophomore quarterback Garrett Gilbert, who nearly led the Longhorns to the BCS Championship last season, has the weight of an impending repeat as league champions for his team resting on his shoulders. Oklahoma's powerful offense looks to pose a tremendous threat after being riddled by injuries last season; if their defense holds up we could be looking at the Sooners as South Division Champs. The only other team that poses a real threat is Nebraska; their strong rushing attack gives them a big advantage, not to mention their impending departure, which will inspire them to go out with a bang.
As for the SEC, the West Division might be the best in all of college football this season. Defending champs Alabama, as well as Auburn and Arkansas are all primary contenders for the division title. 'Bama narrowly defeated Arkansas on September 25, 24-20, but there is a chance that some upsets might occur later in the season, preventing the Crimson Tide from emerging as number one again this year. In the East only Florida (suffering the departures of Tim Tebow, Joe Haden, and Brandon Spikes) and Georgia (who recently replaced defensive coordinator Willie Martinez with Rodd Grantham) will be contenders. They will compete with South Carolina for the East championship title; the Gamecocks have an excellent defense an offense with enough talent to make a run.
In the Big Ten conference, the University of Illinois Fighting Illini have suffered a couple of disappointing seasons recently, but expect them to come back strong for coach Ron Zook's last season. Purdue, Minnesota, Michigan, and Indiana are all on the verge of a breakthrough this year. The Northwestern Wildcats, who have evolved into a quality mid-level team under Pat Fitzgerald, will most likely finish in the middle of the league with their improved running game. Penn State and Michigan State are dangerous opponents for everyone they face this fall; Michigan State has the conference's best passing game while Penn State, though lacking a true leader at quarterback, has an altogether strong squad. At the top of the pack, University of Wisconsin features a powerful running game, a balanced offense and good defense. Iowa, who achieved an Orange Bowl victory over Georgia Tech last year, should have a much-improved offense to compliment their elite defense. Finally, Ohio State's athleticism as well as the playmaking skills of star quarterback Terrelle Pryor will be very tough to match.
In the Pac Ten (soon to be Pac Twelve), the usual suspects are considered to be the favorites (Oregon and USC), while Washington State will continue to be the underdog. The Arizona State Sun Devils have a remarkable offense that should prove exciting to watch, and Stanford's team has emerged as a surprising contender for the division title. Unranked before the reason, the Cardinal are currently ranked ninth in the AP and 13th in the USA Today poll, having trailed for a total of 4 minutes, 34 seconds all season.
That being said, most students probably have realized by now (or at least one should hope) that BU has no football team. Why, you might ask?
In 1997, after 91 seasons of fielding a squad, our incisive administrative staff decided to pull the plug on the football program for two – some might say rather intuitive – reasons :
1) It costs money.
2) Women don't play it.
After citing low attendance rates at Nickerson Field, the high budget for the program was reallocated to women's athletics and eight "high-priority" sports, including crew, field hockey and soccer. Other schools have recently followed suit on the decision to cut their football teams, including Northeastern at the end of last season.
Looks like that lame high school dance was the last "Homecoming" we Terriers will ever attend.