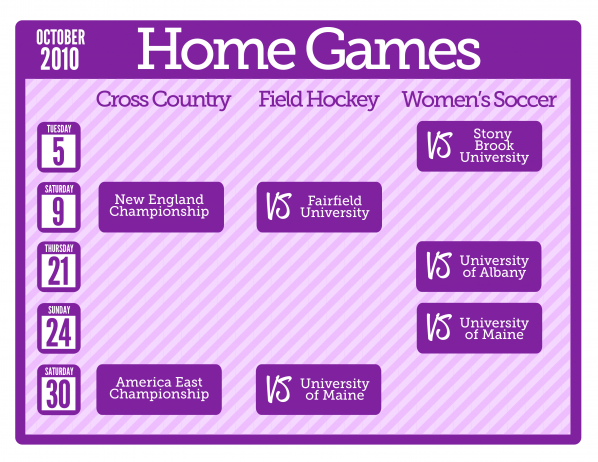 The weather might be getting cooler, but fall sports are beginning to heat up! The field hockey team, currently ranked #11 in the Kookaburra/NFHCA Division I National Coaches Poll, is "off to the best start in program history," says Brian Kelley, Senior Assistant Director of Athletic Communications at Boston University. They are currently 6-3, citing a loss yesterday, September 26, at 1:00 p.m. against Old Dominion at home on Jack Barry Field.
"Old Dominion is always one of the top teams in the country," says head coach Sally Starr, "There are a lot of great athletes on the field."
Which Terrier field hockey star players, in particular, should you watch out for this season?
"Allie Dolce, Maryette Stuart, and Amanda Smith, all fifth-year seniors," Coach Starr says. "They want to finish their senior year strong. They really compete well and lead the team."
Additional conference home games that will be important match-ups for the field hockey team are against Fairfield University on October 9 and the University of Maine on October 30. To give our team the biggest home field advantage possible, go out and support your fellow Terriers!
"If you've only seen a high school hockey game you have no idea what our level is about," Starr says. "It's exciting, it's fast-paced, and it's competitive. It's a combination of hockey and soccer, just really fun to watch."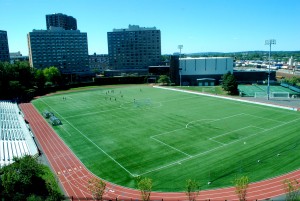 Women's soccer also needs your support. With a good portion of their season already out of the way in late August and early September, it is coming down to the home stretch for a playoff bid. The team is 5-5 with a big conference game against Stony Brook University coming up on October 3 at 1:00 p.m. on Nickerson field.
When asked about the importance of the last nine games of the season, women's soccer head coach Nancy Feldman said, "We need to keep learning from all of our opportunities; we are motivated to get past .500, to perform well and improve. Every game is important because we're vying for the postseason. Both the America East Championships and the NCAA tournament."
In other words, every match-up is live or die; younger players are trying to prove themselves and seniors leave everything they have on the field.
"The seniors are absolutely motivated to go out with a bang," Feldman says. "Cory Halasz and Shauna Kelleher take their responsibility very seriously and are playing at a high level themselves." Feldman also mentioned that Kelly King, a freshman goalkeeper, "has been a key contributor. It's extremely exciting when you see a first year player in goal who can handle herself so well. She's been doing a great job, and Emma Clark, another freshman, has been putting in some outstanding minutes."
Fan presence is also important to the women's soccer team at BU.
"We love when the fans come out," says Coach Feldman. "We put on a good show. When the students do come and are loud they really do motivate us to do better; they are like a twelfth man on the field. We really do appreciate their support."
Expect to see big numbers of red-and-white fans at the Stony Brook game, as well as at the last two home games of the season against University at Albany at 7 p.m. on October 21 and University of Maine at 1 p.m. on October 24.
The men's soccer team is currently 5-4-1. After a promising start to the season, they endured harsh losses recently, falling 4-0 at the feet of Boston College on September 17 and 2-0 against Brown on September 19. Fortunately, there are several key games still in the schedule.
"Probably one of the most important games of the season is the Harvard game, says BU's Senior Assistant Director of Communications, Brian Kelley. BU beat the Crimson 2-1 in a stunning upset of the no. 20 team on Sunday, September 26. "Major fan support is needed, it really revs up the team," Kelley adds. Additionally, in October they have four conference home games against Hartford, Vermont, Binghamton and Albany.
The team is led by some key returnees: captain and senior forward Aaron O'neal, a first-team all-America East honoree in 2009 and ranked 21st in the nation for points per game, playing alongside Michael Bustamante, a junior midfielder awarded America East Midfielder and Rookie of the Year in 2008 and two-time all-NSCAA northeast region honoree.
Men's soccer is hoping to surpass their overall record last year of 9-7-2 and to make an appearance in the America East Championships.
The Terrier cross country team is hosting the New England Championship on October 9 and the America East championship on October 30, both at Franklin Park. They will then compete at the NCAA Northeast Regional on November 13, where runners will seek to qualify for the NCAA National Championships in Terre Haute, Ind. On November 22.
From the men's squad, returning senior Eric Ashe is a leader for the team. Last year he won his race at the America East Pre-Championships and placed fourth at the New England Championships and ninth at the America East Championships.
Junior Kattie Matthews shines from the women's side; she was the squad's top finisher in 2009 and placed eight at the America East Championships, 17th at the New England Championships, and 34th at the NCAA Regionals.
Gooooo Terriers!