Back when I was a freshman (I won't tell you when that was, a lady never reveals her class year), my roommate and I were obsessed with VH1's Best Week Ever. We subscribed to the podcast so that every week we could watch the latest episode. We would plug in our headphones at our separate little man-made cubicles under our lofted beds in the HoJo, so as not to disturb our third roommate, and then we'd laugh hysterically alone in our separate corners like total creeps (I realize I'm making us sound much cooler than we actually are…).
Then, VH1 canceled the one thing we looked forward to each week. I mean…you know, besides the weekend and parties and cool normal college people stuff.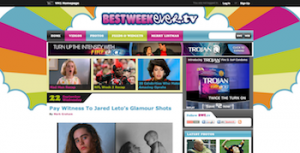 If you've never seen the show, Best Week Ever was a recap of the week in all things media, pop culture, and celebrity as told by the show's team of comedians. It was done "talking-head" style like VH1's other popular series I Love the 70s, which later documented the 80s, 90s and so forth. Until that no longer aired either, because VH1 had to make room for STD-filled tour buses so that Flava Flav could find a lover. I'm getting my VH1 shows mixed up, but you know what I mean.
The comedians on Best Week Ever were familiar faces seen all over the place doing their own projects. A few of my personal favorites were Doug Benson, Paul F. Tompkins, Nick Kroll, Paul Scheer, Chuck Nice, Jessica St. Clair, Melissa Rauch, Sherrod Small, Mike Britt, Rob Huebel, Christian Finnegan, John Mulaney…okay I'm just naming all of them but that's because they each provided quality commentary and witty banter. Many people get VH1's "talking-head" series confused, so before you say it, no, Michael Ian Black was not on Best Week Ever. He and Hal Sparks were the staples of the I Love the… series. Don't get me wrong, however; they are both hilarious.
Admittedly, our fascination with this show went hand-in-hand with our undying love for all things pop culture. I frequent celebrity blogs (guilty) and have a reputation for knowing far too much about any given celebrity at any given time. It's unnatural and disturbing and I apologize for contributing to that part of our society but hey, what can you do? Stop reading gossip blogs? No. Never.
Best Week Ever took all of this celebrity/pop culture nonsense and turned it into the best stand-up routine to ever be done while sitting down.
As a mega-nerd with a subscription to the Best Week Ever podcast, I had access to daily BWE clips and videos throughout the week including extras, outtakes, "I Like to Watch" and "Best Night Ever," which introduced BWE comedians-in-training Brian Faas and Max Silvestri.
Before cancellation, VH1 gave the show one last shot by trying to revamp it with a new format. No longer "talking-heads," one of the show's lead comedians, Paul F. Tompkins, was picked to take the reigns as the show's host. Some others stayed with it and did bit segments, but it just wasn't the same anymore. The new format was not received well and Best Week Ever disappeared.
Luckily, us fans still have our downloaded episodes from the podcast in case we ever need to watch Nick Kroll do an Albert Einstein impression as a pick-me-up on a bad day.
The show also lives on through its blog, Bestweekever.tv. The blog's main writers Michelle Collins and Dan Hopper (and at one point Sara Schaefer, who now blogs for Late Night with Jimmy Fallon) recap TV shows, celebrity antics, and ridiculous headlines daily. It's like a gossip blog but with less of the annoying crap and more of the witty sarcasm.