Complete with opportunities for students to pitch in with BU's efforts towards environmental sustainability, free food and goodies for all, today, September 16, will mark the first celebration of the sustainability@BU Festival.
Today's festival will offer students the chance to join various on campus organizations dedicated to improving BU's impact on the environment, including Net Impact Undergrad and BU Energy Club, and learn more about the University's continuing sustainability efforts, according to sustainability@BU's event page. Students will also have the opportunity to check out BU's Farmer's Market, sign up for BU's Join the Challenge, sign up for a free home energy audit, and taste a variety of dining service's fall crisps, among other activities.  The festival will take place at the GSU Plaza from 11:00pm-2:30pm.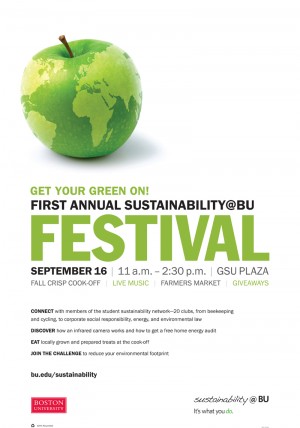 While BU has been celebrating Earth Day for the past two years in late April, the sustainability@BU team organized it's own festival for the start of this year for the first time, said sustainability@BU's communications specialist, Susan Lebovits.  By adding a major event at the start of the school year, the sustainability@BU crew hopes to show students "how they can become more involved, and this way people can get involved from the beginning and not just as a punctuation point," said Lebovits.
BU's Sustainability Committee, which includes sustainability@BU, has been busy helping BU become more environmentally friendly since its creation during the 2008/2009 academic year.  So far, the committee has contributed to countless on campus projects including Mugar Library and FitRec lighting retrofits, BU's Green Purchasing initiative, eliminating trays in the dining halls, and the reusable shopping bag program.
For more information on BU's sustainability efforts, please visit sustainability@BU's website.