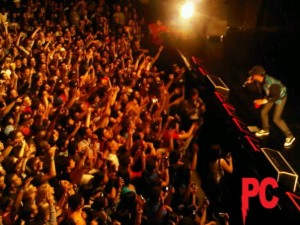 The Boston University student body often complains about the lack of student unity on its Charles River Campus. And their complaints are not unfounded: a sense of community is suspiciously missing among the student population of 16,000. However, BU's seafaring freshman are not entirely without hope. The Programming Council, BU's university-sanctioned, student-run programming group, vows to bring events to the university that will bring the student body together under one groove. Andrea Abi-Karam sat down with co-president Sara Kiemeg and phoned faculty advisor Gina Roginini to get the inside scoop on PC's machinations for campus unity.
The Mission
As an alternative to drinking out of plastic handles and wandering the streets of Allston on Friday and Saturday nights, PC seeks to provide entertainment for meandering freshman.
"PC aims to bring events to the entire student body instead of select student groups like colleges or class year, and provide affordable entertainment options" said Kiemeg.
Students often complain of a lack of student unity, and part of PC's mission statement is to join the student body by getting them motivated and proud of the school for hosting events that excite and interest them.
"There's definitely a lot of ways people segregate themselves into separate groups at BU, because there's so many people that it just happens" Kiemig said. In order to appeal to the mass of BU's student body, PC aims to bring all-inclusive acts that draw big crowds.
"Honestly we're pretty much limited by our capacity; if we had a bigger venue for Scarlet Fever [PC's big spring event last year, which included a Kid Cudi concert] we could have sold more tickets" said Roginini. 2400 students attended the 2010 Scarlet Fever and 3500 attended the 2009 drive-in movie.
Aside from trying to foster student body unity, PC also tries to connect major student groups.
"[The] big thing PC is working on is collaborating with other students groups to bring as many people together as we can—Greek life, student government. We're willing to work with other students groups. It's not about the money and we want to be a resource for other student groups who don't have programming experience" said Kiemig.
After all, PC, Student Union, and Allocations Board used to be a single student entity before Dean of Students Kenneth Elmore initiated a three way split.
How to Get Involved
Interested in pitching your own programming skills? Here's how:
Attend the first few general meetings.
Email BUPC@bu.edu to let them know you're interested
Any student can attend volunteer meetings Wednesdays at 7
"A lot of people don't realize that they can be a part of PC." said Roginini.
After doing time as a plucky PC volunteer, students can advance to managerial and eventually presidential positions. PC possesses a 13 person executive board that consists of to co-presidents, a vice president, six event managers, and four marketing team members. The application process for climbing the PC ladder occurs in spring for the next fall. The co-presidents and faculty advisor conduct the position selection process.
Kiemig noted that a "big goal for this year is volunteer retention," as many students attend the first few meetings but do not tend to stick around past the first round of midterms.
From an Idea to an Event
For annual events such as Mr. and Ms. BU and Back Bay Ball, the E-board brainstorms a theme for the event. Typically, two to three managers work on each event.
"A lot of it's discussion, contacting people, doing paper work" said Kiemig. "The general process is having a discussion with all of the e-board and volunteers and then implementing the event. And then you have to decide how to advertise it which we have a whole team for" Kiemig said. For the inception of a fresh idea to an original event, it's the same process: "It's all about collaboration with everyone," said Kiemig. In the final stages of planning an event, the event's managers mobilize forms of non-traditional advertising such as starting flash mobs and circulation viral internet videos. Not to say that this process is never chaotic: "It's a big flurry—it's the best kind of crazy; there are so many ideas that come together all at once."
Welcome Back Weekend and Fall Events
Two words: roller rink. For the Friday of welcome back weekend, September 3rd, the three court gym of Fitrec will transform into a retro roller rink "called 'roll with PC'. We're going to have a DJ and cool lighting" Roginini said. There will be stylish streamline skate rentals available. Four roller rink sessions are being held to maximize the number of students that can attend.
PC's most attended event every year, the drive in movie, will screen Saturday September 4th on Nickerson field. This year's drive in movie features Get Him to the Greek and a throwback film Space Jam, based on a student poll. The drive-in movie is the traditional welcome back weekend event, and the second big event is a wildcard. The past two years there was a laser light show called "Virtual Insanity."
The rest of September will boast a BU beach party co-sponsored by Greek life on September 10th and a comedian on September 17th in Morse auditorium.
"It's cool to come and see people that you met during orientation or that you pass by on Comm. Ave. or never have gotten to know" Roginini said.
Spring Events
Spring weekend can be a confusing subject at Boston University, as 2008 was the last official spring weekend and the event was completely absent in 2009. 2010 featured the return of a big spring event, named Scarlet Fever, but not as an official spring weekend.
The old spring weekend typically consisted of a drive-in movie on the Friday and another big event on the Saturday, like a carnival or concert. PC has since moved the focus away from the whole weekend to a single day of events since then: "It was a combination of what we decided we could afford and what we thought was really important to put our budget towards, so we decided to focus ourselves on the concert rather than spread ourselves too thin" Roginini said. Since PC is no longer locked in to putting on a concert for the spring event, this frees up the type of programming they can put out.
"We don't want to limit ourselves to just a concert. It's hard to cater to the music taste of everyone on campus.  We wanted to take the limits off of our selves; we started scarlet fever. The possibilities are endless. Last year we did music; this year it could be anything. It would be comedy, a carnival, or a big dance party." Roginini said.
Last year's Scarlet Fever featured a barbecue on the BU beach followed by a sold out Kid Cudi concert at House of Blues Boston.
"It's our big spring end of the year event. It could be a concert; it could be a comedy show. [It's an] annual tradition– to bring the whole campus together is the whole goal" Kiemig said.
Lookout, freshman: PC is slated to bring some great programming to the 2010/2011 school year. PC has recognized the lack of unity in the student body at BU and that they can help reverse it. PC, with their bold mission statement, the most SAO funding of any student group, and staff resources, has all of the assets needed to bring bangin' events to BU. It's up to them to bring that elusive sense of community to BU.
For more information on PC's upcoming events, check out their YouDo page and watch out for listings on the Quad's new events calendar!