From Conan O'Brien's massive fan group "I'm With CoCo" to the victory of getting Betty White to host "Saturday Night Live", Facebook has proven itself as the latest and most successful medium for this generation to get their voices heard and make a change.
And what better way to use this newfound power than to save one of the best new animated series out there: "The Life and Times of Tim". The show follows the awkward events and situations faced by Tim, an unassuming dude with a hell of a case of bad luck, always managing to get himself into trouble without even trying.
And lo and behold, Tim's gone and gotten himself into another one of those situations: On June 4th, HBO cancelled the series after its second season. While the show's ratings weren't the highest HBO has had, the show has a very loyal and dedicated fan base. And Tim's fans now have the power to pull a "Team CoCo" and get the word out about their favorite show and find it a new, perhaps more suitable, home.
I had the chance to talk to the writer/creator and voice behind "The Life and Times of Tim", Steve Dildarian, about the current status of the show and what could be expected should there be a season three. Although it sure sounded like I was talking to Tim himself…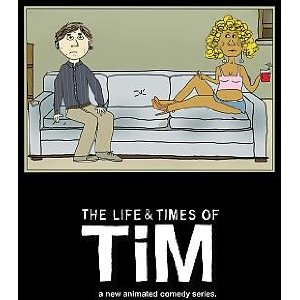 "Everyone wants to help," says Dildarian. "A lot of people are angry. People are just furious and can't understand why HBO would do this. But it's not my place to encourage that anger, I'm more about looking forward and finding a new place for the show."
While the show was originally made for FOX, "HBO just felt like the right thing to do," Dildarian says. Though it was originally written for a broadcast channel, Dildarian plans to stick to cable. "It's more of a cable thing just because of the style and tone of the show and the budget that we make it at," he says.
With it's half-hour running time split into two segments and the simple, character-based premise of the show, "The Life and Times of Tim" could potentially find a fitting home at a variety of different cable channels, such as Adult Swim on Cartoon Network, Comedy Central, or even TBS.
While nothing is definite yet, Dildarian confirms that networks have shown interest and two of them are starting business talks, saying, "creatively they've already said 'absolutely we want the show' and the money guys just have to work out the deal. So, you know, we're going to have to trudge through that before we can announce anything."
So what can we expect in season three? "A lot of the writing we have done and ready to go," says Dildarian. Season two ends with Tim getting fired from Omnicorp and beginning his new life as a writer. Too bad he sucks at it. "It's not a huge spoiler alert to say he gets rehired," says Dildarian.
"Him having to write this book, it's the first time he's tried to proactively do something with his life," he says. "But I'm sure he'll get his job back whether he wants to or not."
So fans of The Boss, Marie, Rodney, Stu, and of course Keith, shouldn't fret. There is more to come in season three.
And when it comes to Tim himself, there are plenty of odd encounters for him to find himself in. "He's kind of more awkward friends with The Boss now, in a way, so there's lots to explore," says Dildarian.
But a third season is nowhere near the end of the road for Tim. Once it finds a permanent home, the show has the potential to last as many seasons as any other animated show of its kind, such as South Park and The Simpsons. "It's just a young guy screwing up. It's not a high concept show where the premise gets old," Dildarian says. "It's just a character that people like, and that's fine."
There are plenty of categories yet to be touched on, from Tim's relationship with Amy getting more serious to Tim getting caught up in some of the other characters' problems.
The creativity and enthusiasm is still there, now it's just a matter of finding Tim a permanent home. "HBO was amazing for two years, and it wasn't a long term home for us, but they put us on the map and gave us a reputation and that's more than we could ask for," says Dildarian. "We were never HBO's top priority, we're not 'True Blood' and I knew that."
While there are no hard feelings towards HBO, the show now has the opportunity to find a home capable of making them a top priority.
"People keep asking, 'What can I do? What can I do?'" Dildarian says. "And short term we're just saying, go to the Facebook page. It's a good way to get everyone in one place to get their voices heard. If people actually care, it's kind of a group effort to pitch in and help."
If you want to show your support for the show and express your opinion on where it should go next, visit and join the Facebook page at http://www.facebook.com/pages/SAVE-THE-LIFE-TIMES-OF-TIM/103257529723524