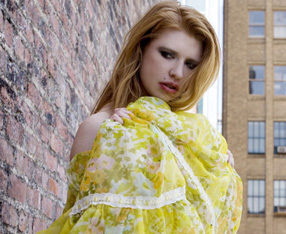 Most American women in their 30s spend their work days sitting in a cubicle, scrambling to prepare for office-wide meetings, and rushing to get their daily quota of work submitted to The Boss.
Madison Young is not most women. She opts for skimpy lingerie over frumpy business clothes, a video camera over an Excel spreadsheet and strap-ons over sticky notes. Madison Young, who turns 30 in September, is a renowned award-winning pornography actor and director who also describes herself as an activist, author, and educator.
Most professional women cannot claim a resume as impressive as Madison's: The self-identified queer San Francisco resident has directed 24 films to date and starred in over 100 films since 2002. Madison started her career in the adult industry at the age of 22 after starting a theater major from Columbia College in Chicago and transferring to Antioch College in Yellow Springs, Ohio. Originally from Loveland, Ohio, Madison fell in love with the city of San Francisco after starting a gallery there as part of an art internship for her Antioch degree, eventually abandoning the completion of this degree to focus on her gallery.
"I've always been an artist, a queer, a sexual outlaw seeking connection with others that view the world differently and express themselves in an honest visceral and uncensored manner," Madison said in an email. "Sex for me is another form of physical and visual expression just as art is."
Widely known for her erotic BDSM (bondage, dominance, sadism and masochism – think whips, chains, and leather) films, Madison embraces all varieties of porn, acting in any film that she "relates to" and finds "sexually satisfying." However, she speculates that she has achieved the most fame for her lesbian-oriented and painfully graphic work because it falls into a marketable subculture. "I think I'm best known in the queer and bdsm porn scene as they are smaller niche markets and because I'm a lifestyle bdsm player who likes to show authentic bdsm and orgasmic experiences with the camera," she said.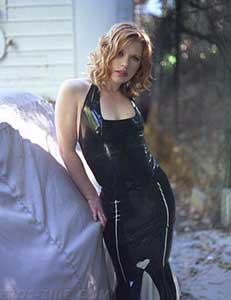 Apart from her work in the pornography industry, Madison declares herself as a feminist. From the money she makes on her films and website, Madison funds her feminist art gallery, Femina Potens. "I see the work that I do in the adult industry as an extension of my activist work that helps to document part of our sexual culture and create visibility for alternative sexuality," she said.
Madison isn't the only one who recognizes her feminist side: she has won four times at the Feminist Porn Awards, taking this year's Best Bisexual Movie for "Fluid 2: Men Redefining Sexuality." "I'm truly so very happy with 'Fluid 2: Men Redefining Sexuality' and think it is incredibly important to create films that show the complexity of gender and sexuality and portray performers and multidimensional sexual beings," she said. "The Feminist Porn Awards are so crucial to the recognition and inspiration of sex positive directors everywhere and no one else is really giving this kind of recognition to erotic films that have some kind of social significance."
Although starring in over 100 films in less than 9 years would make anyone's head spin, Madison takes the time to carefully screen performers for her films. She prefers to elect her friends or past coworkers whom she has "found to give hot authentic performances," and describes the best quality in an actor as "an ability to open themselves up to a vulnerable state and share themselves openly and honestly with another person and the camera." However, when she shoots new performers without another half, she pulls out all the stops to match them with their best counterpart.
"I love shooting couples but if the person doesn't have another half to shoot with I talk with them about qualities that they find hot in other people and who they are attracted to," she explained. " After we find a couple potential matches I connect the performers online and suggest that they meet for coffee.  Sometimes I will help to facilitate a discussion between the two performers.  I also talk with the performer about what kind of fetishes they might have or rooms they like to have sex in."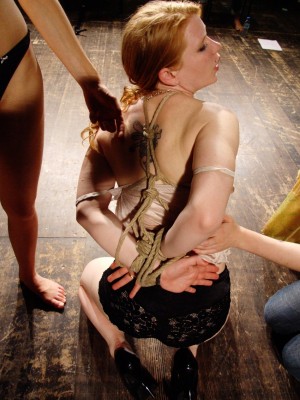 Madison is also proud of her 5-year relationship with www.kink.com performer and director James Mogul. She has been partnered with the same man, James Mogul, for five years. She says James has supported all of Madison's endeavors – whether it be managing her gallery, reaching a higher education, or pursuing a career in pornography. Her immediate family has also tried to understand Madison's alternative life choices: her sexual tendency for both genders, her rejecting meat as an edible food group, and her work performing in BDSM films are just a few. "I've always been honest with my immediate family so they have had 8 years to adjust to my career choices," she said. "I've always given them something challenging to deal with that was out of the norm from the rest of the family in Ohio from my vegetarian lifestyle, politics, queer identity, and sex work. I've tried to inform my mom and keep her in the loop as much as possible which I think really helps."
Overall, Madison's main message is the same one that health care providers, sexuality educators and women's-advice magazines reiterate throughout America: communication in sex is key.
"I think that the reason that there is so much static and controversy around pornography and sex is miseducation and fear of what we don't know or don't understand," she said. "Be honest and communicate with your partner. Know your body and figure out what it enjoys through masturbation so you can communicate your bodies likes/dislikes and desires/fantasies to your partner. There is no reason to have shame around your sex or your body.  Your partner loves being with you because you are you, and you are sexy."