Conducted by Adam Blomquist (CAS '11)
Patterson Hood is not ignorant to the ailing state of rock and roll. It's something he addresses on a track from the Drive-By Truckers' new album The Big To-Do. In "After The Scene Dies," Hood envisions a world where the rock is dying, the venue is dead,  and the people who play them begin to dry up and fade away. It's a dreary world that Hood imagines, but the song is such a prime example of true-blue, knock-down, drag-out rock and roll that it rebuts its own doomsday message.
The Truckers (founded by Hood and long time friend Mike Cooley) have more great rock albums than most bands have half-decent songs. Hood, the band's outspoken frontman who shares singer/songwriter duties with the supremely talented Cooley and bassist Shonna Tucker, took some time out of his busy schedule to talk to the Quad about the new album and the band's current tour (They'll be at the House of Blues on April 2nd):
the Quad: Starting the interview off with a bit of a "blast from the past" and a question that I've wanted to ask for a while: Will there ever be an official release of the material from Adam's House Cat, Mike Cooley and yours pre-Truckers band?
Patterson Hood: Definitely. I started a small label last year to put out "Murdering Oscar (and other love songs)," Ruth St. Records. We just put out our second release, David Barbe and The Quick Hooks – "Love It, Don't Choke It To Death" [ hasn't been released officially yet, but he's selling them at shows and it will be out soon]. That would be the perfect way to release "Town Burned Down".
Q: How much of that material is still around? I know you occasionally release some as bonuses to your fans online, but will there ever be a complete release/ what would it look like?
H: We cut an album and an EP. I have no desire to ever release the EP, but the album "Town Burned Down" is something I'm very proud of. It will be 20 years old this November so maybe we can put it out around then. I have about fifteen hours of live archives I could go through too, but it's all in pretty rough shape.
"Town Burned Down" actually sounds pretty good. The singer makes me cringe, but pretty much everything I sang before about 3-4 years ago does. The playing is really good and it was all recorded analog and more or less live in the room, like we still do now, so it's a pretty nice document of time and most of the songs have held up pretty well.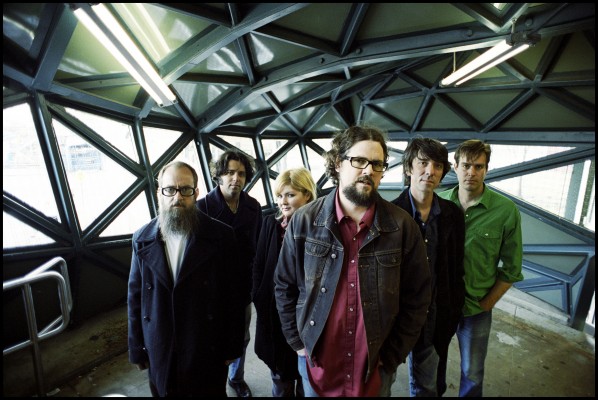 Q: This past year has been a big one for not only the Truckers [who released an album of rarities from the Dirty South-days called The Fine Print], but you in particular. You released "Murdering Oscar," your second solo album that features a range of songs that were written over a number of years. Outside of the obvious "how do you find the time" question, how do you decide what material is for the DBTs and what you keep for an album like "Murdering Oscar"? What does your solo work represent to you?
PH: My solo thing is almost like more of a hobby or an outlet to do something specific that needs doing that just isn't in the cards to be a DBT project, or perhaps a chance to work with someone specific who isn't in the Truckers. The band is my top priority, always. In the case of "Killers and Stars" [Hood's first solo album], it was just a bunch of songs I recorded by myself at home, nothing I planned on ever releasing, but it kinda gained a small cult following so I ended up releasing it later. "Murdering Oscar"  was built around a bunch of songs that predated DBT by a few years and I recorded them the way I had originally heard them in my head, fifteen years later. I have a couple of other things I want to do at some point, but right now I got all I can handle and look forward to this year or so doing nothing but The Big To-Do.
BQ: The band had no shortage of good material before "Southern Rock Opera," but that seems to be what many critics pinpoint as your breakout album, due in part to its double-disc concept album structure. I remember hearing somewhere that "The Dirty South" began life as a concept album, and that "Brighter Than Creations Dark" was almost a double itself. Is there a reason that you've never repeated Southern Rock Opera's structure? Could there be more DBT concept albums in the future?
H: You kinda summed that up yourself. All of them have some kind of thematic thing happening in their structure and execution, but I usually prefer it being a little more vague and open-ended. "SRO" was a special thing and we're all very proud of it and what it made happen to us, but I actually like several of our albums a lot better. "The Big To-Do" kind of hints at some reoccurring themes and subtexts but it doesn't have a literal storyline. I always think of them as little movies without the movie anyway. Their always structured more like a film with its push and pull and builds and climaxes and epilogues. Honestly, if you think of them that way, they all make more sense. Imagine it being filmed to look like Wes' art than there's your movie.
Q: There are many recurring themes in the band's music, but in your songs in particular you seem to demonstrate a great knowledge/affinity for film- I'm thinking of songs like "Steve McQueen" "Sands of Iwo Jima" and "Monument Valley", where you quote John Ford. Am I reading too far into things or can you elaborate on this? Is there any kind of intersection between movies and film for you?
H: Oops , guess I already answered that above. I can elaborate a touch though. I pretty much grew up obsessed with movies and rock and roll music. I don't really have any hobbies, don't think anyone in the band does; we're all just these crazy people who kind of live for this shit. Wrote "Steve McQueen" for and about my granddaddy, who was kind of like a nicer version of someone McQueen would play. A real man's man, but also really smart and very kind. McQueen was his favorite actor and they both died of the same type of cancer. When my granddad found out he was dying, he did all this research about some of the experimental treatments that McQueen tried. Likewise, Sands of Iwo Jima" was about my great uncle, who was there and whose comment about not seeing John Wayne there gave me my hook for the song. "Monument Valley" is very personal. I was traveling out west a good bit, was figuring out some things about myself and was watching a lot of John Ford movies. It all kind of blended together and summed up a moment in time for me just as we were about to record "Brighter Than Creation's Dark".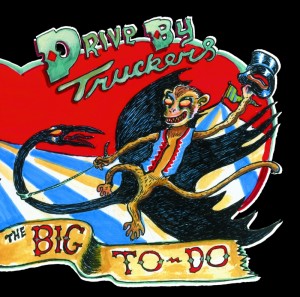 Q: You may not remember this but a few years ago the band was playing an acoustic set at the Steven Talkhouse. You began playing a new song and there were a few people at the bar being disrespectful and talking, ruining it for the rest of us. You reached a lull in the song and addressed them with: "Would you shut the f**k up?" The venue erupted in applause. It was a great moment, and a roundabout way of asking you how you feel about trying out new material on the road. Many fans probably view it as a great way to get a "sneak preview" but how do you go about structuring your shows to placate this unresponsive minority?
H: That's probably the number one reason why we're louder than shit. When I go out solo, it's often just me and a guitar and on a lucky night when the crowd is quiet and tuned in, we can have a magical evening, but I hate trying to compete with a disrespectful crowd. DBT don't compete. We're louder than shit, so you have no choice but to pay attention. The last album had a lot of quieter moments and I really like it when we can pull those off live. This album is way more aggressively paced and louder, kinda big. It's going to make for a really fun show and we're all really ready to do that kind of tour, but I enjoy the other kinds too. It's all about balance, balancing out our crazy bi-polar tendencies.
Q: You've stated in a recent interview that you feel that after many changes in the band's line-up over the years that this current lineup is the "culmination." Why is that? Were you talking about on a creative level, on a working relationship level? Shonna Tucker's recent singing/songwriting debut on the last album would seem to be a part of this, was she one of the missing pieces?
H: All of the above. It's really all about the songs, no matter what else seems to be getting a focus, the song is king in this band and this lineup really excels at that. Our band has always followed the songs. We didn't have three guitar players, we added one for "Southern Rock Opera" because that piece of music required it. There's a degree of versatility that I've always dreamed of. It frees me up to write in any direction that the songs take me and I have a band that will do them justice. It's made it really really fun.
Q: One last question: Since "Southern Rock Opera," DBT's albums have sported artwork by Wes Freed. Freed's art has become almost inseparable from your music [Mr. Cooley and Mr. Morgan even have some on their instruments] and is actually a positive example of "judging a book by its cover." The new album cover is by Freed but is also quite distinctive from his earlier work with the band; was this change conscious? And if so, how much input does the band have on the final product?
H: When we start a new album, we send him the first batch of roughs at the end of the first cluster of recording sessions and he starts painting based on what the songs inspire him to do. As we progress on the recordings, we send them to him and continues painting. By the time we finish mastering the album, he's usually about finished with the art work. This time he wanted to take it in some different directions. It was his idea to kinda exploit the circus themes a little. He was inspired by some of the old traditional circus posters, especially the really old style ones, and wanted to incorporate some of those colors and images into the context of the songs and the general direction of the album. The album has a reoccurring metaphor of playing in a band being parallel to what joining the circus must have been like a couple of generations earlier and Wes really ran with that. I would never walk on a tightrope but can totally understand the level of obsession that would inspire a man like Wallenda or Philippe Petit to walk across some vast expanse without a net. I get it.
You can check out DBT's website at www.drivebytruckers.com to download a track of the new album. Be sure to check em out, then come down to the show. I'll see you there.