If you're a fashion fiend like me, then you know that a necessary part of any Fashionista's lifestyle is the ubiquitous mainstream fashion magazine. We've all seen them; they entice us from displays at City Convenience and CVS. But at $4.99 a pop, buying your favorite magazines off the newsstand can get pricey. Magazine subscriptions are tantamount to a year long investment, so it's important that you choose to subscribe to a magazine that can guarantee it will hold your interest even after "The Sex Issue" is released. Here's a breakdown of the best in the biz, and how much a year long relationship will cost you: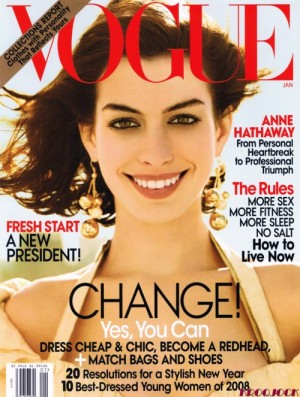 What's In It: This is the fashion bible, and having the latest copy is considered a necessity by most in the fashion business. It focuses on high fashion and high society, as well as fashion trends and celebrity profiles. It has detailed reports of designer lines and the next big trends (think green is the new black). It heavily features editorials on already well-known and up-and-coming models (think Chanel Iman and Jourdan Dunn) and often has a witty human interest piece buried in between the glossy advertisements. The products featured are generally out of the reach on a college budget, but hey, a girl can dream!
Perfect If: you like to imagine the glamorous life you'll be leading in 10 years. I personally love the advertisements because of my love for fashion photography. The celebrity profiles are always exciting and almost always tell you something new about the cover model for that month. My only complaint is that the "Vogue lifestyle" comes across as fairly unattainable. Sometimes I feel like the magazine speaks down to me.
Cost: A year's subscription will cost you $15, or you can go all out and get 2 years worth for $28. You'll save around 68% by subscribing online.
Photo Courtesy Realvideosite.com

What's In It: This magazine features some exquisite photography and the super-sized pages allows for maximum appreciation of the featured fashions. W pushes the notion of fashion and fashion design as an art, and often has accompanying articles and profiles on up-and-coming designers and artists, as well as fashion icons that may only be familiar to fashion insiders. The magazine also tends to highlight important ongoing political situations and gives first hand accounts of international situations.

Perfect If: you're into the arts. W is great at featuring artists of all kinds who possess quirky and unique skills that you might not hear about elsewhere. It is also my favorite when it comes to photography. The fashion spreads of the cover model are always expertly styled and photographed and the articles are very intimately written. It's a great way to catch of on the history of the fashion industry without feeling like you're out of the loop.
Cost: A one year subscription will cost you $12 and two year's goes for $24. You'll save about 20% by subscribing online.
Photo Courtesy The BeanStockd Project

What's In It: This magazine focuses on women's fashion, beauty and health. Marie Claire is a favorite because it is geared towards the working professional woman, and has a more accessible feel than either Vogue or W. Many of the articles detail the experiences of ordinary, everyday women and this helps make it very relatable. The magazine is also very reader-centric, with lots of giveaways and competitions. A great part of the magazine is the "Shop the Runway" sections that help you imitate runway looks for much less (think a $2,530 outfit copied for under $100!). The features on notable upcoming releases both on screen and in print are also very useful if you're looking for your next good read or excursion to the cinema.

Perfect If: you like a magazine you can relate to. Marie Claire's focus on its readers goes a long way. The personal stories are intriguing, interesting, and never come off as whiny women looking for sympathy. Marie Claire's international focus is fascinating and often features equivalent traditions and practices in other parts of the world. The beauty sections are also fantastic and tell you how you can get the best beauty products from your local drugstore. It's a great read for the gym or on a flight.
Cost: A three year subscription will set you back just $15 and you'll save 88% off the cover price by subscribing online.
Photo Courtesy Gossip on This

What's In It: This magazine focuses on fashion, beauty, and entertainment. Of all the magazines mentioned in this article, this is the one mostly likely to feature an artist over an actress (a la Miley Cyrus). Elle magazine is also the largest fashion magazine in print today, with over 39 different international editions. The magazine is fun to read and like Marie Claire, is very relatable. The monthly "Fashion A to Zee" column by Creative Director Joe Zee is a highlight, and the shopping sections are themed, making them fun and interesting. This is also a pleasurable airplane read. It features new books that are worth your time and fun now adventures that you can try (surfboarding in Costa Rica anyone?).

Perfect If: you acknowledge the advice of the experts. Elle is the magazine that most explicitly and religiously reports on the seasons trends. If you're a stickler about only wearing what's in season, Elle is the magazine that will tell you what you should buy. The Style Section is detailed and highly organized, making it easy to mix and match the items you like.
Cost: One year of Elle will cost you $10.00. You'll save 83% off the cover price by subscribing online.
Photo Courtesy Element Den

What's In It: This magazine is all about shopping and  style. It focuses on what to wear and how to wear it, while making beauty fun and accessible. It's really good about finding equivalent items that are in style but for a much better price. Unlike other magazines, Lucky tends to focus solely on fashion and beauty, and doesn't deviate too much from that topic, which frankly is fine by me. Lucky is one of those magazines that you can enjoy flipping through without actually having to do any actual heavy reading. There's no sob stories or survival stories, just straight fashion.

Perfect If: you love to shop. Lucky has these really handy stickers in each issue that you can use to tag items you see within its pages that you want to make a mental note to track down and buy. I'm very hands-on and ready with a pen in my hand, so I love that this gives my fingers something constructive to do. It's also written in a very personable tone, as if you were talking to your very trendy girlfriend and she were giving you great fashion advice.
Cost: One year of Lucky will set you back $9.97 and two years goes for about $15. You'll save 76% off the cover price by subscribing online.
Other mainstream and notable magazines to look into are InStyle, Glamour, Allure and Cosmopolitan. In case you still can't choose, many magazines will give you a discount on a second subscription to another magazine if you order them both together. Vogue subscribers can get discount on a W Subscription and Marie Claire subscribers can easily include a year's worth of Cosmopolitan with their order. The best part is that regular subscribers are the first to get special deals on a renewal. The rates change every year, put if you were already on their mailing list, you might get a better deal than others.