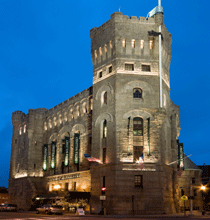 Obviously this is not a restaurant you typically go to with your friends on a Saturday night. This is a "family visiting" dinner, a special occasion for a college student's stomach. With no entree below 22 dollars (for roast chicken), you don't choose this restaurant lightly. Smith & Wollensky's seems to be somewhat of a cult favorite, but after dining there, I am left somewhat nonplussed. As I wrote this article, I found that I had written about my experience beginning with the best aspects and how it deteriorated from there. However, thinking back on the meal, I must conclude that my expectations and the prices were the main factors dampening my desire to give S&W the good grade it would earn otherwise.
First it must be said, the service is excellent. My water glass was never less than a couple sips full. I think I counted 4 or 5 different waiters that took care of our table, but somehow this excess manages not to be annoying or overwhelming. They brought extra bread without being asked, and were polite but not overattentive.
Secondly, the atmosphere is pretty good. The "Castle", a turreted building which houses the restaurant, is four floors full of historical artifacts. This structure was built in 1891 as the headquarters of the First Corps of Cadets. Though the lights are a little dim, it gives the feel of a private dining experience.
Now, the food: it was good. That's all I can say about it. If they reduced the prices by 15%, I would say it was very good. I just feel that 40 dollars for a steak is exorbitant. My recipe is just as good, for a fraction of the cost. The mashed potatoes were okay. As for the Calamari- Sonsie has S&W beat for sure. The Gigantic Chocolate Cake was just average. The one at The Palm is better (and a couple dollars less). The two standout dishes for me were the rolls given to us at the beginning of the meal, and the creamed spinach. The bread, baked in an iron skillet, sprinkled with sea salt and rosemary and served with whipped butter, was delicious. This, also, can be replicated at home. (Also, the creamed spinach. I love this website.)
However, looking back at my experience, I realized that I did have an excellent restaurant experience and the food was good. It was mainly the prices that rubbed me the wrong way, but I wasn't paying, and taking into account the difficulty of finding good quality beef in New England, S&W's claim that they butcher the beef in house, The Castle's interesting ambiance, and the quality of the service, I could maybe see this restaurant as worth the super-size price tag. As someone pointed out to me afterward, Smith & Wollensky is a steakhouse. What more do I expect?