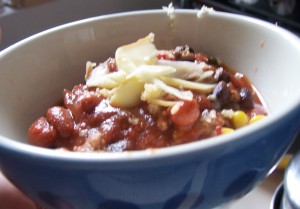 Now, I say that this isn't your mama's chili because it probably isn't the same recipe and it most likely doesn't even contain the same ingredients. I have just come from my Food and Culture class, where we were discussing regional variations of food and the fierce protective feelings they stir up. Chili is one of these foods. People of different regions are very steadfast on what chili "really" is, even coming to blows over it. So I feel I must place a disclaimer: I claim no regional affiliation with this recipe. I do claim, however, that it is kind of delicious and secretly pretty good for you.
You need:
A large stew pot (or the pot you boil water in for pasta)
1 can black beans
1 can red kidney beans
1 big can crushed tomatoes
A handful or two of frozen corn
1 chopped green or red pepper (green are usually cheaper)
1 onion, chopped
1 lb ground beef, turkey or chicken
Worcestershire sauce
A packet of taco/chili seasoning (or cumin, garlic powder, onion powder, salt and pepper)
Optional: red pepper flakes
Directions:
Saute the onion and pepper in the bottom of the pot for a few minutes, then add the ground meat. Brown the meat until it is almost cooked. If you are using ground beef, you will need to drain some of the fat by tilting the pot and spooning it out.
Add everything else except the corn. Mix it all together and let it come to a simmer.
Add the corn and cook for another 5-10 minutes to allow all the flavors to come together.
Serve with some cheese on top. Or over spaghetti, if you're wacky like those Cincinnatians (warning, there's a song).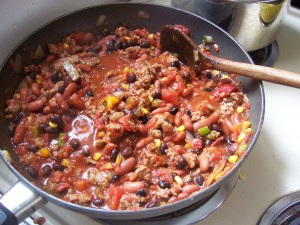 Verdict: Pretty much the easiest thing to make ever. If you can open cans (which I realize is not as easy as people think), you can make this recipe. Beans are a good source of protein, vitamin D and iron, and are low in fat. Another bonus: this recipe serves a lot of people. So you can have some friends over, or do what I do: portion it into whatever tupperware you have available. Throw one into the freezer. Eat the other throughout the week. Then, in a couple weeks when you feel like having chili again, pull it out of the freezer and let it thaw. Warm, meaty, tangy, filling, and economical. What's better than that?