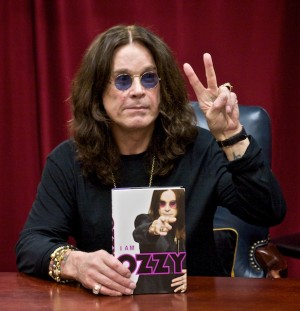 "I work at a church and I told the priest and the nun there that it's like the pope coming to our church!" laughed Joe Picorelli from Maine as he and the endless sea of giddy, black-clad fans standing in line counted down the final minutes until the arrival of Ozzy Osbourne.
Osbourne conducted a book signing for hundreds of fans at Boston University's Barnes & Noble last night, promoting his latest endeavor: "I AM OZZY," his first autobiography.
At age 61, Osbourne uses his book as an opportunity to reflect upon his life.  "I AM OZZY," which was cowritten by Osbourne and Chris Ayres, touches on everything from Osbourne's humble beginnings in Aston, Birmingham, England to his, shall we say, animalistic stunts.
"It haunts me, all this crazy stuff. Every day of my life has been an event. I took lethal combinations of booze and drugs for thirty f**king years. I survived a direct hit by a plane, suicidal overdoses, STDs. I've been accused of attempted murder. Then I almost died while riding over a bump on a quad bike at f**king two miles per hour.
People ask me how come I'm still alive, and I don't know what to say."
Picorelli, approximately 10th in line, had been standing in line for nearly 10 hours by the time Osbourne arrived.  The first in line, a gentleman with an Osbourne tattoo proudly displayed on his right shoulder, arrived the night before to wait in line, said Barnes & Noble security.
"You must be crazier than me!" said Osbourne, when hearing about the wait for his first signature.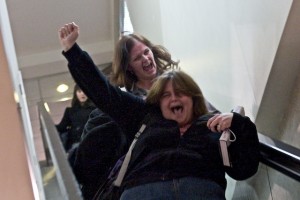 "Ozzy is like the dad I never had.  Like seriously, my dad left and Ozzy made it okay…I don't think I would have made it through my teenage years if it wasn't for Ozzy," said Nicole Turner, who had been waiting in line since 7 a.m.
Book signing began before the event's intended 7 p.m. start due to the sheer number of people who showed up.  After posing for a few publicity shots, Osbourne sat down and immediately started signing books, with the help of three Barnes & Noble staff, two of his personal staff, one publisher employee, one police officer, and a piping hot cup of coffee in his personal mug.
"I AM OZZY," first released this October in the U.K., was released on January 25 in the U.S. by Hachette Book Group.