After weeks of negotiations, feuds, rallies, and bad decisions on NBC CEO Jeff Zucker's part, Conan O'Brien's departure from NBC and "The Tonight Show" has been finalized. O'Brien is being given $45 million in severance, a good portion of which he is handing over to his staff (approximately $13 million).
For those who have sided with Jay Leno, congratulations: you are alone. And here's why: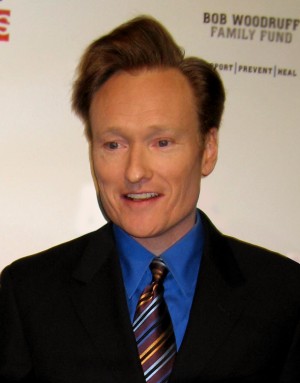 O'Brien is a classy gentleman. When Leno's 10pm spot failed miserably (Zucker mistake number one), NBC offered to give him the 11:35pm spot after the news, therefore pushing "The Tonight Show" with Conan O'Brien back to 12:05am, which would also push back the late night shows following it. O'Brien declined the offer with a polite, well-worded statement. He explained that he did not want to be a part of ruining the history of "The Tonight Show," a legacy started by Johnny Carson.; the time slot changes would technically make it "The Tomorrow Show." O'Brien also did not want to obstruct the time slots of the late night shows that follow him (we'll call it "pulling a Jay Leno"). His entire statement can be read here.
What really makes O'Brien a stand-up guy is that he actually cares about his staff: a group of about 200 people uprooted their lives to move from New York to Los Angeles for this man. O'Brien, proving once again to be a genuinely good person, refused to settle on an agreement until he was absolutely sure his staff would be compensated.
Leno is greedy. A fan rallying outside the Universal lot in Los Angeles, Calif. on behalf of "Team CoCo" said it best with a sign that read, "Jay Leno is a Chin-Dian Giver." After taking a moment to appreciate the hilarity of that pun, let us look at the facts: in 2004, Leno gave a statement that he would leave "The Tonight Show" in 5 years (2009) and hand it over to Conan O'Brien. He went on to say that he was happy with the decision and would take a page out of his friend Jerry Seinfeld's book and go out on top while his show was still number one. Here's the proof.
Leno went on to joke that it would give him more time to spend with his cars, which is exactly the point. Jimmy Kimmel recently made an appearance via satellite on "The Jay Leno Show" and, pardon my French, ripped him a new one. Kimmel made the point that while O'Brien loves his talk show, he also does it because the hefty check is what allows him to care for his family. Kimmel stated, "Conan and I have children – all you have to take care of is cars." So Leno basically gets slammed on his own show and has essentially no comebacks. Why? Because everything Kimmel said was funny because it was true.
So what's next in the world of late night? David Letterman will be back on top in the ratings once "The Tonight Show" with Conan O'Brien ends this Friday, as O'Brien's ratings went up 50% this week sending it to number one (Team CoCo: 1, NBC: 0). But do not cry for Conan O'Brien: he can sign with another network come September.
In the meantime, I suggest watching "Late Night with Jimmy Fallon." Fallon tends to get a bad rap for whatever reason, but he is proving that he's definitely got what it takes and is good at what he does. Even Howard Stern suggested that NBC just give "The Tonight Show" to Fallon after watching his Neil Young rendition of "Pants on the Ground." Fallon's spoof of Bravo's "Real Housewives" series, called "The Real Housewives of Late Night," features Fallon himself and fellow "Late Night" staffers dressed in drag as housewives as they are followed around the "Late Night" set wrecking havoc. There are seven episodes. Watch all of them.
All of the highlights from the show are featured on the always-up-to-date "Late Night with Jimmy Fallon" blog. The blog itself is almost as entertaining as the show as it's updated by a crack team of comedic writers, including bestweekever.tv blogger alum Sara Schaefer.
So there you have it. Zucker is an idiot, Leno should probably retire, O'Brien will move on to bigger and better things, and we get to look forward to all the 10pm prime time spots NBC now has to fill with quality programming.