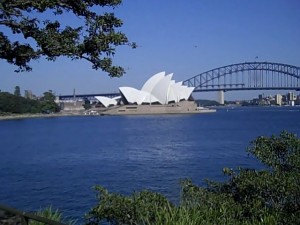 As a journalism major, I had a total of four options to choose from when considering a COM education abroad:
Los Angeles
Washington, DC
London, England
Sydney, Australia
Now, I decided to employ some Sherlock-style logic to weigh my options. I wanted to get the heck out of the good ol' USA, so LA and DC were punted from the options list immediately. If you have the chance to really get out of the country and still benefit your ultimate career goals, why not go ahead and do it? So, that obviously left London and Syndey: two English-speaking countries with almost the same opportunities and both in a well-established BU program. But then, here's the clincher:
It's summertime in Sydney!
So, after filling out all the necessary paperwork, packing, and trekking 30 hours and 14,138 miles, I arrived in beautiful, sunny Sydney. From here, I will be documenting the ins and outs of living, working, and learning in Sydney through my education at the BU Sydney Center (affectionately known as BUSC).
Thus far, everything is going really well! The great thing about Australian culture is that it's very open and laid back. Of course, Aussies also love to "take the piss out of people," which is slang for giving newcomers a hard time. I've been told by many that those who want to take the piss out of me actually like me, so I'm going to try to take that as a good thing.
The food here is also surprising. I have never really understood or even thought about Australian cuisine, and assumed it was probably some weird cousin of English food. However, I've found that Australian food is more about where the ingredients come from than the style, and I have yet to be at a restaurant that doesn't have fresh, often local ingredients in every dish.
If I were to describe Sydney succinctly, it would be that the city looks as if San Francisco and San Diego had a beautiful, metropolitan baby. Urban sprawl makes everything conveniently within walking distance, but it doesn't have the hectic feel of a large city. The laid back Aussie attitude is something I've never seen outside my family vacations to Hawaii, and it's refreshing to see people in a big city who aren't always rushing around. Many Sydneysiders have been helpful, too, in helping a poor, directionally-challenged American girl, like me, find her way to the bank. I even started a conversation with a random girl walking down the street, who asked if I was Canadian and then proceeded to whip out her iPhone and help me find my way to a bar/art installation in a sketchy back alleyway (I'll discuss that adventure at a future date!).
The only downside to my life abroad: Lack of internet. I didn't know that Australia's broadband service is so stagnant! I was told by some people at BUSC that Australia is ranked a measly 26th in nationwide internet access, and everybody still pays for internet in blocks of data. So, I've been forced to reserve my internet times only when at school, and have gotten on living like it's 2002 on the weekends.
Below is my first video, of many, that shows you the whirlwind first week of my orientation with the rest of the Sydney Internship Program students, sight-seeing, and adjusting to life in the Land Down Under.
This next week, classes begin! With an opportunity to enjoy the Australian Wine Industry (in the classroom and out in the real world), I think I'm going to like my education here. Summer in Sydney? It's a no-brainer choice.