When you first sit down at your table at Fire+Ice, the waiter will ask you if you've ever been there before. This is because as a newbie, you require certain instruction as to how this restaurant works.
The 'Ice' part is easy. Basically just an extensive list of alcoholic beverages. Fun if you're 21, but not applicable if you're underage.
The 'Fire' part is where it gets interesting. Along the far wall of the restaurant is what appears to be a salad bar on steroids. The gimmick is that you pick out exactly what you want, choosing from an array of meats, noodles, vegetables which are all hygienically kept on ice, as well as various sauces. You pile your personal ingredients in what seems like a very small bowl, but the point is that you come back for more variations. Last night I had shaved steak, sliced yellow squash, udon noodles, red onion and snow peas in a mix of honey-garlic and zesty pineapple ginger sauces. Once you have chosen, you bring your revered combination over to the massive circular grill, which Fire+Ice claims to be made especially for their restaurant.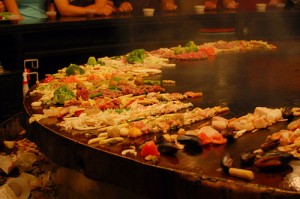 Here, a group of amiable grillmasters will cook your food, sometimes with a few flips of the spatula to impress the crowd. It all goes pretty quickly; think more stir-fry than slow-cook. In other words, your meat will be cooked but the veggies will have a bite to them.
How is the food? Well, it's pretty good. The ingredients are fresh, never overcooked, and there is enough variety even for those people who just want a bacon cheeseburger, or pasta with tomato sauce and italian sausage. And its all-you-can-eat, which equals an instant win for many college students. In addition to your grilled meal(s), the waiter will bring a plate of edamame, a basket of flour tortillas and a bowl of rice to your table.
The cost is pretty reasonable. $16.95 for dinner, $9.95 for lunch. About what you would pay for dinner at a typical restaurant. However, Monday night is college night. Show up with a valid college I.D and get unlimited dinner for only $9.95. Get there early: my friends and I waited 20 minutes for a table and it was only 5:30. However, I give this restaurant 4 out of 5 jalapeños for its college-friendly atmosphere, creative concept and college budget-friendly food.
Fire+Ice is located at 205 Berkeley St. near Arlington/Copley T stops.